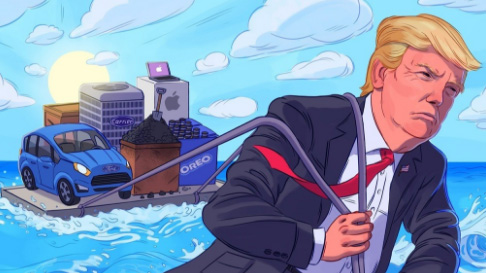 This page is dedicated to tracking that number of jobs that Donald Trump has saved, helped create or brought back to America due to his business friendly policies and negotiations.
Donald Trump is committed to negotiating with companies who wish to seek cheaper labor in places like Mexico or China and avoid the high corporate tax rates of United States (3rd highest in the world).  Since the year 2000 it is estimated that America has lost 5 million manufacturing jobs in addition to many major companies moving their headquarters overseas. Many businesses are also finding it difficult to operate in a country that produces so many new regulations each year, and they in turn must hire additional legal representation to ensure they are in compliance, thus increasing their operating costs.
When Donald Trump first announced his intention to bring back manufacturing and middle class jobs to the United States, the mainstream media released a slew of articles claiming that "those jobs aren't coming back" and the working class is going to be replaced by robots.  So far, the media is being proven wrong once again, as their articles are looking more and more like "fake news" with each American job Donald Trump is saving.
Total American Jobs Gained by Donald Trump
| | | | |
| --- | --- | --- | --- |
| Jobs | Date | Company | Description |
| 3,000 | 2/8/2017 | Intel | Intel chief executive Brian Krzanich met with President Donald Trump and the company announced it will invest $7 billion in a factory employing up to 3,000 people in Chandler, Arizona.  Read More >> |
| 1,000 | 1/17/2017 | General Motors | General Motors announced that they plan to invest up to $1 billion into their American factories, in attempts to show their commitment to jobs and U.S. manufacturing, which is a core focus of Donald Trump. This decision comes shortly after Trump criticized GM for their importing of vehicles manufactured in Mexico to the U.S. without paying border taxes on them. Read More >> |
| 1,000,000 | 1/9/2017 | Alibaba | Jack Ma, an Internet entrepreneur who currently holds the title of "Richest Man in China", met with Donald Trump to discuss future business plans and the creation of 1 million jobs in America over the next 5 years.  "We're focused on small business," Ma told reporters.  "Alibaba will create 1 million U.S. jobs by enabling 1 million American small businesses and farmers to sell American goods to China and Asian consumers on the Alibaba platform," the company said in a statement. Read More >> |
| 700 | 1/3/2017 | Ford | Ford Chairman Bill Ford Jr. announced that the company is canceling plans to invest $1.6 billion in a new plant in Mexico, and will be expanding their plant in Michigan, while investing $700 Million in the operation and creating 700 jobs in the process.  Ford attributed this decision to Trump by saying, "We're also encouraged by the pro-growth policies that President-elect Trump and the new Congress have indicated that they will pursue." Read More >> |
| 8,000 | 12/28/2016 | Sprint/OneWeb | As part of the previous deal Trump made with Softbank CEO Masayoshi Son to bring in 50,000 new jobs, Sprint has agreed to create or bring back 5,000 jobs to the United States in addition to OneWeb creating 3,000 new positions.  "They're taking them from other countries. They're bringing them back to the United States, a nice change," Trump said regarding Sprint's announcement.  Read More >> |
| 10,000 | 12/8/2016 | U.S. Steel | The CEO of the Pittsburgh based company U.S. Steel, Mario Longhi announced that he would happy to hire back employees that have been laid off due to massive amounts of regulations and high corporate taxes, which could amount to around 10,000 new jobs. Federal jobs numbers indicate more than 16,000 steel industry workers have been laid off since January 2015 alone. Mr. Longhi said Mr. Trump's victory created "an environment of positive optimism." On the crushing impact that regulations has had on the steel industry and its employees Mr. Longhi said, "There was a point in time in the past couple years that I was having to hire more lawyers to try to interpret these new regulations than I was hiring … engineers. That doesn't make any sense." Read More >> |
| 50,000 | 12/6/2016 | Softbank | Donald Trump met with Softbank CEO and Japanese billionaire Masayoshi Son to negotiate new business investments in America, which will result in 50,000 jobs gained along with $50 billion invested in the country's businesses.  Masa Son stated that he would never have made this deal if Donald Trump was not elected as president. Read More >> |
| 1,000 | 11/30/2016 | Carrier Air Conditioner | Donald Trump and Mike Pence negotiated with Carrier Air Conditioners to save 1,000 American jobs from going to Mexico, as the company had planned to close their production plant in Indiana in the coming years.  Trump made Carrier one of his prime examples of American jobs being shipped overseas and the impact it was having on the middle class workers. Only weeks after winning the election, Trump is already busy making good on his promises to save/create American jobs. Read More >> |
If there are reports of other business negotiations or jobs that Trump has gained for America that aren't on this list, feel free to email them to me so that they can be added.