Never underestimate the collective investigative skills of Internet sleuths, as the anti-Trump activist Shia LeBeouf found out the hard way when the third attempt at his "resist Trump" movement resulted in yet another epic failure.
LeBeouf started his anti-Trump livestream project during the president's inauguration in January, which was meant to draw a resistance movement to last Trump's entire first term in office.  His first attempt consisted of a stationary webcam placed on the exterior wall of New York's Museum of the Moving Image, in front of which people are invited to place themselves and say the words "he will not divide us."

However, LeBeouf's webcam project was shut down after persistent violence, with even Shia himself being arrested after assaulted a Trump supporter, and the Museum of the Moving Image finally declared his webcam a "public safety hazard".
Similar woes struck LeBeouf's second attempt at his "he will not divide us" project in Albuquerque, New Mexico. It lasted for about a week before being shutdown after gunfire and other disturbances were reported in its vicinity.
Shia LeBeouf's third shot at "resisting Trump" came in the form of a flagpole in an undisclosed location that displaced a white flag containing the slogan "He Will Not Divide Us".

It didn't take long before Internet sleuths at the uncensored message boards 4chan and 8chan made a capture the flag competition, in which they used some very cleaver methods to find LeBeouf's hidden anti-Trump flagpole.

By observing the contrails given off by airplanes flying over the flagpole's location, and applying a bit of celestial mechanics calculations, the 4chan/8chan sleuths were able to pinpoint the placment of the flag to be in Green County, Tennessee.  It appear LeBeouf thought by placing his flagpole in a heavily pro-Trump area, that it would throw off potential saboteurs attempting to undermine his project.  His assumption ultimately failed.

The resulting success involved the 4chan/8chan groups lowering LeBeouf's "He Will Not Divide Us" flag and raising a bright red "Make American Great Again" hat and t-shirt depicting Donald Trump and Pepe the Frog (a Reddit/4chan Internet mascot) in its place.

The following is a video of the MAGA gear rising up the flagpole, representing the ultimate victory for the Internet sleuths.
An artists has immortalized the capturing of LeBeouf's flag perfectly in the following image: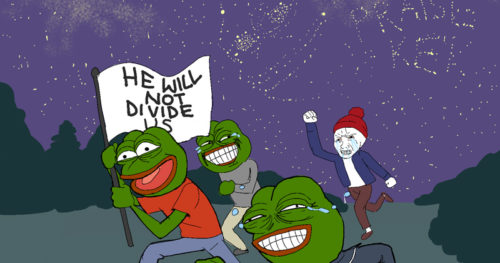 LeBeouf's flagpole as it stands now, with his live webcam still streaming.

The lesson that Shia LeBeouf should be learning after 3 attempts at an anti-Trump project is that celebrity leftists are woefully unprepared to face the street smart, savvy and passionate Trump supporters of the Internet.  Collectively, a handful of these online supporters represent a resourcefulness that is exponentially higher than the largest anti-Trump protest you can imagine.
Despite the cleverness of these 4chan sleuths, the real driving force was their passion to undermine anti-Trump and anti-American leftist projects.  Passion, which these liberals will never understand and will always be conquered by.  A liberal's passion is ultimately driven by their emotions, while a patriot's drive results from passion for their country and the love of freedom.
---