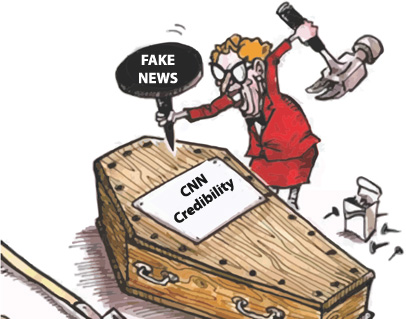 The latest mainstream media's attempt to smear Donald Trump's reputation, unsurprisingly started by none other than CNN, burnt out as quickly as it started and their "bombshell" report has turned out to be a shinning example of fake news.
Yesterday, CNN gave a brief 2-page preview of a "report" compiled by an alleged former British intelligence agent who was hired by the Republicans during the primaries, and then by the Democrats, to perform opposition research on Trump in order to try and fuel negative media narratives against him.  Buzzfeed ran with this report and released the entire 35-page dossier of wild claims of Trump/Russia conspiracies

The report was never used during the election by either the Republican or Democrat opposition to Trump, however, likely because the accusations contained in it were so outlandish (and unsubstantiated) that it would have done more damage to the reputation of the Democrats than to Trump.
This opposition research was found to contain multiple errors (including spelling), incorrect information and no evidence to support the claims made in it. You can read the entire report here, but the highlighted claim was that while Donald Trump was staying at the Ritz Carlton Hotel in Moscow he booked the same room that Barack Obama stayed in at one time.  The report alleges that Trump then hired a series of prostitutes to urinate (golden shower) on the bed as an act of disrespect towards Obama.
The report goes farther down the rabbit hole, alleging that Russian agents had the hotel room under surveillance and the entire event was recorded.  They were then said to be using the recording as "blackmail" against Trump to make him run for president and use it to force him to act in Russia's best interest.
There's obviously multiple problems with this story, but one of the biggest issues is the claim that Russia picked Donald Trump, who had no political experience and a very low chance of even being nominated at that time, to be their Manchurian candidate to secretly control America.  Also, if this story was true and the evidence was being used as blackmail, the mainstream media disarmed the blackmailers by going public, which would effectively free Trump from the control of those dastardly Russians.
Of course we now know that the report was so over the top with its claims and presented zero evidence to back up any accusations, that even Hillary Clinton's campaign didn't touch it during the election.  That should be all the proof anyone needs to completely dismiss this garbage, as you know Clinton would have distributed this report to all of her mainstream media pals the moment she got her hands on it.
The New York Post even commented in surprise that major news outlets would issue a report with such weak sources and lack of evidence, which only serves to diminish their credibility to new all time lows.
I've been a newspaper and magazine editor for 31 years, and like many in my profession, have had occasion over the course of four decades to work with people linked to intelligence agencies both domestic and foreign when they are retailing stories injurious to one or another politician or cause.

In my experience, there is no source of whom you need to be more skeptical, and whose information you need to verify to the letter before you can even begin to think of publishing it, than an "intelligence" source.

The telling indicator is that every factoid such a source produces is given equal weight with every other one. Chances are some percentage of those factoids is actual fact, but it could be 10 percent or it could be 90 or any number in between.

Since the person retailing the factoids has an agenda, as BuzzFeed acknowledges here, he has at the very least a bias toward believing every piece of anti-Trump detail he puts down on paper—and at worst a desire to throw every single rumor he can collect (or generate out of his own fevered imaginings) at the wall to see which ones might stick.
The end result of this story, however, is the fact CNN and then Buzzfeed, who are both extremely liberal media outlets that make no secret of their disdain for Trump, have now provided alternative media with "Exhibit A" in all future cases of "Fake News".
This disaster of reporting on the part of CNN and Buzzfeed will only serve as an embarrassment to their credibility, and the next hit piece that they release on Trump will be even less relevant thanks to their obviously blunder.  Yet more irony ensues, as the very term "fake news" was started by the mainstream media to discredit alternative and conservative news stories, but now they have effectively claimed the title of "fake news kings" by grasping at anything they can use to discredit Trump with.
Typically the media's strategy of releasing damaging, false reports about a politician and claiming they are going to "let the public decide" for themselves what is true would be effective in tarnishing an entire administration by the accusations alone, but this time they have encountered a president who fights back and the press is totally incapable of handling that.
The media's reporting on these claims of Trump's misdeeds in Moscow, which even staunch anti-Trump publications like The New York Times criticized CNN/Buzzfeed for discrediting all mainstream journalism, and accused them of "peddling fake news" over the Russian report.
The reports by CNN and Buzzfeed sent other news organizations, including The New York Times and The Washington Post, scrambling to publish their own articles, some of which included generalized descriptions of the unverified allegations about Mr. Trump. By late Tuesday, though, only BuzzFeed had published the full document.

BuzzFeed's decision, besides its immediate political ramifications for a president-elect who is to be inaugurated in 10 days, was sure to accelerate a roiling debate about the role and credibility of the traditional media in today's frenetic, polarized information age.

Of particular interest was the use of unsubstantiated information from anonymous sources, a practice that fueled some of the so-called fake news — false rumors passed off as legitimate journalism — that proliferated during the presidential election.
You know you really messed up as a biased left wing media organization when your fellow biased liberal journalists are criticizing you for "fake news".
The takeaway from this whole ordeal is extremely positive for Donald Trump and his movement, despite having to take the time to address it in today's press conference.  The shear fact that major cable networks such as CNN are scrapping the bottom of the barrel with complete fabrications indicates that they have absolutely no ammunition left to attack him, and are completely baffled as to how to react to a Trump presidency.
If this is the last gasp of the mainstream media to maintain relevance and control over the minds of the American public, then Trump will have absolute control over the narratives for the next 8 years.
---