A brutal terror attack took place in Manhattan yesterday, only hours before Halloween festivities, where a foreign-born terrorist swerved a rental truck into a bike lane, ran over pedestrians, leaving 8 dead and 15 injured.

The attacker was quickly identified as Sayfullo Saipov, a native of Uzbekistan and "winner" of an American immigration system referred to as the "Diversity Lotto". This immigration program took effect in 1995 with the goal of "increasing America's diversity" by giving priority to immigrants seeking to come to America from countries with traditionally low rates of immigration. This program is responsible for approximately 50,000 new immigrants entering the United States each year, mostly from African countries.
Following the terror attack, President Trump announced he is ordering Homeland Security to step up extreme vetting.
I have just ordered Homeland Security to step up our already Extreme Vetting Program. Being politically correct is fine, but not for this!

— Donald J. Trump (@realDonaldTrump) November 1, 2017
The president also placed blame on Democrat Chuck Schumer for championing the 1995 "Diversity Lotto" program, which Manhattan terrorist Sayfullo Saipov "won" in order to immigrate to the US in 2010 from Uzbekistan, a country known for its many historic mosques.
The terrorist came into our country through what is called the "Diversity Visa Lottery Program," a Chuck Schumer beauty. I want merit based.

— Donald J. Trump (@realDonaldTrump) November 1, 2017
We are fighting hard for Merit Based immigration, no more Democrat Lottery Systems. We must get MUCH tougher (and smarter). @foxandfriends

— Donald J. Trump (@realDonaldTrump) November 1, 2017
"Senator Chuck Schumer helping to import Europes problems" said Col.Tony Shaffer. We will stop this craziness! @foxandfriends

— Donald J. Trump (@realDonaldTrump) November 1, 2017
ABC News reported today that Saipov is expected to survive after being shot by an NYPD officer following his vehicular rampage and was in good spirits following surgery. In fact, Saipov told officials he was "proud" of murdering 8 innocent civilians and pledged his allegiance to the Islamic State (ISIS). Investigators also said Saipov followed previous instructions from ISIS on how to turn a vehicle into a weapon against "infidels".
Investigators said they were able to talk with Saipov. It's unclear what, if anything, investigators learned from him. Though, one official told ABC News he was "proud" of the attack.

They added that the suspect followed instructions for a truck attack that were distributed by ISIS "to a T" and had planned the attack for weeks. Saipov allegedly left behind a handwritten note written in Arabic that translates roughly to: "The Islamic State will endure forever."
Using trucks as a weapon to murder innocent civilians has become more frequent in Western countries over the past several years, unfortunately, as ISIS released detailed instructions for their supporters on how to cause maximum causalities with vehicles.
In fact, over 50,000 citizens of the United Kingdom downloaded Inspire, a monthly magazine issued by Al-Qaeda, which featured an entire article on how to turn a truck into a weapon against infidels titled "The Ultimate Mowing Machine".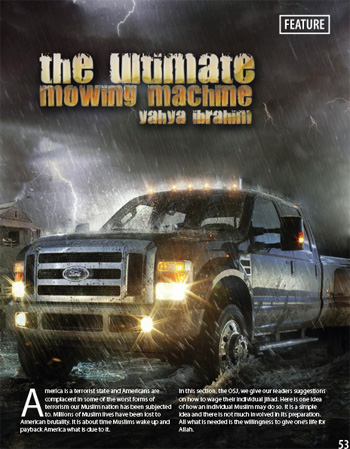 The Al-Qaeda publication often includes detailed instructions and encourages their followers to use common household items to construct deadly devices of terror.
This latest ISIS inspired terror attack in Manhattan is by no means unique in the Western world, at least not since politicians decided to throw open their borders to third-world nations. Germany, France and the United Kingdom have all suffered their own versions of vehicular radical Islamic terrorism in recent years. Below are just a few headlines illustrating the death and terror that has been wrought on the Western world since the push for "diversity" and "cultural enrichment".
– Truck Attack at Christmas Market in Germany, ISIS Claims Credit for 9 Dead and 50 Injured
– France ISIS Terror Attack: 84 Killed, 202 wounded, 2 Americans Included
– London Bridge: more arrests as police tell how terrorists wanted to use truck
Unfortunately, thanks to the careless immigration policies of past administrations, the Manhattan terror attack will likely not be the last in America and European countries as authorities seem woefully incapable of preventing these types of "lone wolf" attacks. Thankfully, in America at least, President Donald Trump is willing to identify and take decisive action to prevent this problem from getting worse by introducing merit-based immigration policies and securing our borders, rather than just "rolling the dice" and hoping for the best when it comes to allowing un-vetted migrants into America.
---