Rachel Maddow of MSNBC is facing fierce backlash from both conservative and liberal media outlets after hyping up a report on Donald Trump's tax returns, promising a shocking revelation, yet the only fact she revealed is that Trump paid more in taxes than some of his harshest critics. 
This is the same Rachel Maddow who, on the morning after Trump proved victorious in the election, told her audience that, "You're awake by the way, you're not having a terrible, terrible dream. Also, you're not dead and you haven't gone to hell. This is your life now." Clearly she's not the biggest fan of Donald Trump.
Last night, however, Maddow was convinced she had the "silver bullet" to not only oust Donald Trump from office, but also to dismantle his entire movement by proving him a fraud.
BREAKING: We've got Trump tax returns. Tonight, 9pm ET. MSNBC.

(Seriously).

— Rachel Maddow MSNBC (@maddow) March 14, 2017
Rachel Maddow succeeded in revealing that Donald Trump paid $38 million on $150 million in income in 2005, roughly 25% of his earned income. This translates into about 10% more than the average American pays each year.
Instead of becoming the hero of all anti-Trumpers and the liberal media, Maddow proved herself a laughing stock by releasing the 1040 form of Trump's 2005 tax returns, a far cry from his most recent returns that liberals have gone as far as illegally pressuring the IRS to leak.
Not only did Maddow's "big reveal" prove out to be empty promises and lackluster revelations, but it actually proved to help Trump's image, as his tax returns from 2005 showed he paid substantially more taxes than many of his biggest critics.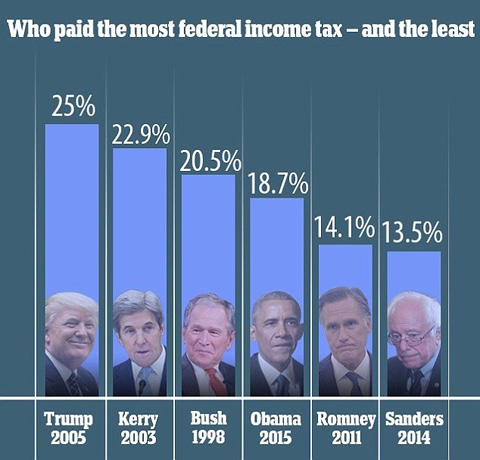 The most ironic takeaway from this graph is that Bernie Sanders, who proudly touted his socialist beliefs during his campaign, came in at only 13.5% compared to Trump's 25% tax rate.  The irony was not lost on lawmakers, as Rand Paul pointed out.
"Since Senator Sanders is such a good socialist, I think he'd want to pay his fair share. I'm expecting news any day that he's gonna send a couple hundred thousand into the IRS so he can pay his fair share," said Paul.
Also, in October of last year, Bernie Sanders criticized Trump and accused him of being a billionaire who pays no taxes, while the middle class is struggling and paying the bulk of federal taxes.
"So Trump goes around and says, 'Hey, I'm worth billions, I'm a successful businessman. But I don't pay any taxes. But you, you make $15 an hour? You pay the taxes, not me,'" he said. "That is why people are angry and want real change in this country."
Oddly enough, it appears Sanders is the one "not paying his fair share" as millions of struggling working class Americans are forced to fund out of control government spending.
Maddow's hyped up reveal was so humiliating to the "Trump tax returns" narrative of the mainstream media that even far left outlets such as Slate mocked her reporting (Rachel Maddow Turned a Scoop on Donald Trump's Taxes Into a Cynical, Self-Defeating Spectacle).
By playing into the network's loyal liberal audience's fantasy that there exists a Trump silver bullet, it instead delivered Trump a positive news cycle—the guy pays taxes! Who knew!—amidst the debacle of the American Health Care Act, along with more evidence that the media is aligned against him. The lesson? Don't tell us you have news, just tell us the news.
CNBC also chimed in, with a op-ed article titled "Donald Trump Just Got a Nice Victory, Thanks, of all People, to Rachel Maddow", which also slams the liberal media host for failing to deliver the expected "death blow" to Donald Trump's presidency.
You know you've failed in the mainstream media world when even your fellow anti-Trump liberals turn against you.
Donald Trump took to Twitter to mock the reporter that "nobody ever heard of" who released his tax returns, asking if anyone really believes he "went to his mailbox" and just found his tax documents.
Does anybody really believe that a reporter, who nobody ever heard of, "went to his mailbox" and found my tax returns? @NBCNews FAKE NEWS!

— Donald J. Trump (@realDonaldTrump) March 15, 2017
Even Donald Trump Jr. joined in on mocking Maddow, actually offering thanks for proving to her "Trump hating followers" that the president paid his taxes.
Thank you Rachel Maddow for proving to your #Trump hating followers how successful @realDonaldTrump is & that he paid $40mm in taxes! #Taxes

— Donald Trump Jr. (@DonaldJTrumpJr) March 15, 2017
Govornor Mike Huckabee also joined in the Maddow mocking fray.
Tomorrow night Rachel Maddow solves the Kennedy Assassinaton. Will name Oswald as assassin. Don't miss REAL JOURNALISM!

— Gov. Mike Huckabee (@GovMikeHuckabee) March 15, 2017
I suspect that once Rachel Maddow heard that someone had possession of Trump's tax returns she worked herself up into a Trump hating frenzy, failing to comprehend the actual content of the document, which only served to disprove the entire media narrative that Trump doesn't pay his taxes.
This entire debacle only proves that the media is indeed the opposition party, as they are more excited and concerned about trying to find material to destroy Trump than actually reporting real news to the American public.
Perhaps Trump's administration puts it best in their statement responding to Rachel Maddow's big tax return reveal:
"You know you are desperate for ratings when you are willing to violate the law to push a story about two pages of tax returns from over a decade ago. Despite this substantial income figure and tax paid, it is totally illegal to steal and publish tax returns. The dishonest media can continue to make this part of their agenda, while the President will focus on his, which includes tax reform that will benefit all Americans."
---