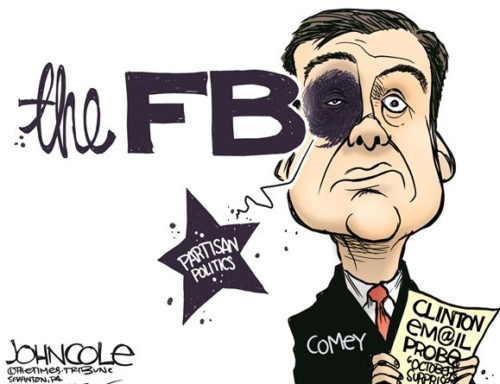 The latest twist in the Hillary Clinton private email server investigation has taken place on a Sunday afternoon, little more than a week after FBI Director Comey made the bombshell announcement that he was reopening the case.
Jason Chaffetz, chairman of the United States House Committee on Oversight, tweeted out that he received an email from Comey stating that based on their review of the over 650,000 emails found on Anthony Weiner's laptop they have decided not to change their decision from July.
FBI Dir just informed us "Based on our review, we have not changed our conclusions that we expressed in July with respect to Sec Clinton"

— Jason Chaffetz (@jasoninthehouse) November 6, 2016
How could the FBI have possibly gone through 650k emails, even just those related to Hillary Clinton, in only a week's time when it took them almost a year just to examine a fraction of that many emails from her private server?  There are 691,000 seconds in 8 days, so that would mean if FBI agents worked around the clock they would have to be reviewing more than 1 email per second.  Even if they used various keyword programs to sift through these documents, the fact that they are essential closing the case in only 8 days would indicate that Director Comey already knew what the outcome would be from the start.

It should be abundantly clear that Director Comey's decisions are politically based, as less than 48 hours from election day he just happens to conclude a second investigation into Clinton's private email server, which one would expect to benefit her campaign at the last moment.
During a rally this evening, Donald Trump made reference to Comey decision, once again calling attention to the rigged system that allows those in positions of power to operate above the law.
.@realDonaldTrump on Hillary Clinton: "It's a rigged system, and she's protected." https://t.co/c7leuCE9uR https://t.co/T6aA3IodUe

— ABC News Politics (@ABCPolitics) November 6, 2016
Speaker of the House Paul Ryan, who has been reluctant at best to offer any support to Trump, made a surprisingly frank statement condemning the Clintons for their scandals while urging the public to vote for Donald Trump.
"Regardless of this decision, the undisputed finding of the FBI's investigation is that Secretary Clinton put our nation's secrets at risk and in doing so compromised our national security. She simply believes she's above the law and always plays by her own rules. This is a pattern with the Clintons, and the American people should not have to endure four more years of their scandal and baggage. Fortunately, the American people have the opportunity to ensure Secretary Clinton never gets her hands on classified information again. Let's bring the Clinton era to an end by voting for Donald Trump on Tuesday."
Theories as to why FB Director Comey would announce that he was reopening the Clinton case 10 days before the election, only to close it 8 days later, are running wild on the Internet.  One theory suggests that NYPD and FBI agents who had access to Anthony Weiner's emails found some very damaging content on the Clinton's and her associates.  These agents were reportedly part of a "counter coup" within the intelligence community formed to prevent a complete Hillary Clinton takeover of our government.  In order to prevent them leaking this information to the press or Wikileaks, Comey was motivated to announce that he was reopening the Clinton case.  However, he never intended to pursue any new evidence, but instead would announce that the case was closed days before the election, giving Hillary yet another "get out of jail free card" and a way to gain momentum going into November 8th.
Perhaps the most obvious explanation is that Comey had been receiving immense pressure from certain parties who are heavily invested in a Clinton victory, and the fact that Donald Trump has been skyrocketing in national polls has them terrified that he will win this election.
---