Early last week Congressman Brian Mast (R-FL) at the request of veterans attending a VA Hospital in West Beach, Florida, attempted to a hang a picture of President Trump at the facility which patients had reported to him was missing, despite a portrait of Barack Obama being placed almost immediately after he took office.
As previously reported in my article, VA Hospital Removes Official Trump Portrait After Veterans Hang It Up, Congressman Mast was successful in hanging the portrait of Donald Trump, yet his victory was short lived.
The issue started when patients at the hospital noticed the missing presidential portrait, which is typically standard in most government buildings, and reached out to their local Republican Congressman Brian Mast for assistance.  Patrons of the hospital also pointed out that a portrait of Barack Obama was present for his entire terms in office, yet just a empty frames faced them where a picture of Donald Trump should be.

Congressman Mast, an Army Ranger veteran himself who was wounded in Afghanistan and just elected in 2016, took it upon himself to remedy the missing President Trump portrait. Mast brought an official portrait of the president along with one of the new Secretary of Veterans Affairs David Shulkin Tuesday morning in response to complaints from the hospital's veterans.

The Congressman and veterans thought the issue resolved, but shortly after putting up the portraits, management at the VA Hospital removed them, stating that presidential portraits can only come from their central office, much to the disappointment of the veterans.
Now, Fox News is reporting that the White House has issued an order to all VA facilities to print and hang the official portrait of President Donald Trump in its designated frame, typically in the entryway of each facility.
The White House issued a directive to all VA facilities, instructing them to hang a portrait of President Trump, Ed Henry reported this morning.  "Fox & Friends" has reported on this all week after Republican congressman and Army veteran Brian Mast hung a portrait of President Trump and Secretary of Veterans Affairs David Shulkin at the West Palm Beach VA Medical Center.

The pictures were then taken down by staffers, with one reportedly declaring that President Trump was not his president.  Mast and local veterans spoke out against the move, though the management argued there was a protocol for hanging the photos and they'd need to be authenticated.

Henry said there's been a huge reaction on social media to this story, but it remains to be seen whether VA facilities around the country will follow the order and actually hang the portrait.

The White House directed VA buildings to print Trump's picture from the internet and hang it, along with the VA secretary's portrait, WPEC-TV reported.

He said the current plan is to hang an unofficial photo until the government releases an official portrait of President Trump. Henry said it's commonplace for the current president's picture to be hung in government buildings.
Veterans around the country expressed joy at finally seeing the president's portrait at their local VA Hospital's, but staff at the facilities still pushed back on the White House's order, stating that the portraits must come by mail from official sources.
The VA said the pictures needed to come by mail from Washington.

Under intense pressure, they now acknowledge the pictures are perfectly acceptable and every VA in America should be clicking print immediately- as directed in a memo from the Dept. of Veteran's Affairs.

"Yes, we're definitely glad that not only at this hospital will they be put up, but around the nation as well," said Army veteran John Rourke. Rourke says the latest photograph from inside the VA is a sight for sore eyes. The picture shows the hanging portraits of President Trump and VA Sec. Shulkin.
However, a more disturbing part of this story is what one veteran reported happened when he inquired with VA staff why the president's portrait was not hanging up in the first place. A Marine veteran reported in an interview that when he asked this question to employees at his local VA facility in Minnesota, they replied that it's because "they're planning on impeaching him", implying that Trump would be forced out of office in the near future anyway so there is no point in bothering to hang his picture.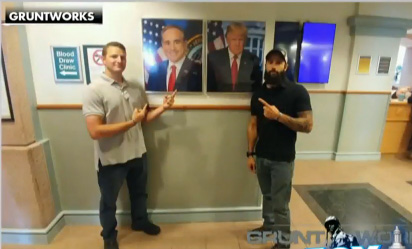 The overarching message of this story illustrates the intense resistance that President Trump is facing at nearly all levels of government, as it appears the majority of employees are still clinging to their fond memories of Barack Obama.
Although refusing to hang a presidential portrait may seem trivial or childish, it represents a broader "open rebellion" against Trump from within government departments, despite him being democratically elected by the people.
This begs the question, if staff at the VA were unwilling to even hang a picture of Donald Trump, how many government employees in other agencies are actively undermining his policies or outright refusing to uphold his directives?
---