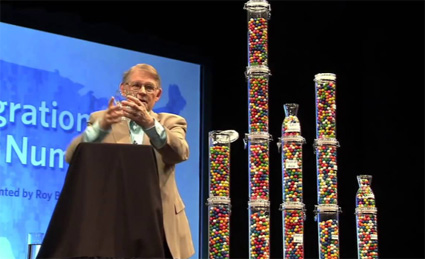 This video was made by immigration author and journalist Roy Beck and although it was made in 1996, it is more relevant in today's political climate than ever before.
Beck uses gumballs to illustrate how illegal immigration into the United States is not only ineffective at solving world poverty, but also allows other countries to ignore serious societal issues they're facing by exporting those most in need of relief.
"When the elites are telling us to take this 1 million immigrants, that we somehow or another are tackling world poverty. And we have to do it regardless of the effect on our natural resources or our unemployed", Beck says.
He addresses the claim that by America taking in millions of immigrants we could help reduce world poverty, "Is that true" he asks as he proceeds to prove the statement false using gumballs to represent those in poverty around the globe, totaling over 5 billion, and how even the most extreme immigration would not solve this problem.
Another valid point he makes is that the people who are so desperate that they feel they must make the hard, long and dangerous trek to illegally cross into the United States, would actually be the agents of change if they stayed in their own country by forcing their governments to address their problems.
---
Want to help President Trump fight back against the biased press? Become a contributor and submit your content.