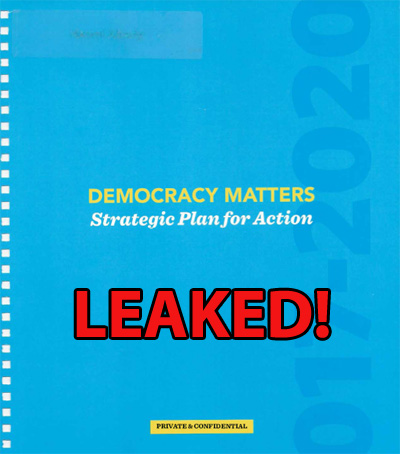 A leaked copy of David Brock's American Bridge opposition group's playbook has found its way to the public, and the strategies it contains describe what could easily be considered sedition at the least, and at worst outright treason against a democratically elected president by openly strategizing his impeachment.
David Brock was at the forefront of the conservative opposition group "Correct the Record", which was well known for hiring armies of online trolls to push false narratives about Donald Trump and attempting to demoralize his supporters, while at the same time collecting millions of dollars from wealthy Democrat donors.
Although Brock and his group had no shortage of funds during the election, they ultimately failed to have any significant impact on the outcome, causing some within his own party to "want nothing to do with him" and "wish he would just go away", fearing he is doing more harm to their goals than good.
Democrats know they need someone to lead them out of the wilderness. But, they say, that someone is not David Brock.

As David Brock attempts to position himself as a leader in rebuilding a demoralized Democratic Party in the age of Trump, many leading Democratic organizers and operatives are wishing the man would simply disappear.

Many in the party—Clinton loyalists, Obama veterans, and Bernie supporters alike—talk about the man not as a sought-after ally in the fight against Trumpism, but as a nuisance and a hanger-on, overseeing a colossal waste of cash. And former employees say that he has hurt the cause.
Emails found in Wikileak's release from the inbox of Clinton's campaign manager John Podesta appear to back up the claims that Brock is not very popular within his own party. Even Podesta described him as an unhinged narcissist and some of his efforts to avoid laws regarding coordination with the Clinton campaign as "shady."
None of these failures has have prevented David Brock from reorganizing and starting a new Trump opposition group called American Bridge (which as per their leaked playbook has a budget of $13.4 million for 2017), whose goal is literally to "defeat Trump through impeachment" and "change the balance of power" by impacting congressional elections.

I suppose it's nice to know that if Brock's group fails at impeaching President Trump in the next 4 years, at least they have a backup plan of following democracy and attempting to beat him at the ballot box, rather than flat out stating a plan to eliminate him before that (wouldn't surprise me considering how many extreme leftists have suggested it).
It's one thing to develop slick strategies to influence narratives and public opinion, but it's another case entirely to call for overthrowing a democratically elected president through impeachment before he has even committed any acts that warrant such a extreme measure.  The above page literally tells its readers that "we are in a state of emergency" due to Donald Trump holding office.
The entire playbook can be downloaded at this link (file size is 45.5mb). Fair warming, it is filled with an appalling amount of arrogance (contains highlighted blue boxes calling out their past achievements of driving conservatives out of the media) and dirty, underhanded strategies that basically amount to sedition with attempts at controlling public opinion narratives. In case you don't want to wade through the deceit contained in this playbook, here are some of the highlights from this abhorrent document.
The playbook describes how Media Matters, also founded by David Brock whose goal is "wage war" on conservative media, will target "right-wing propagandists" on social media and at the "highest levels of the government". At the bottom of page 13 the group actually takes credit for "pushing Roger Stone's bigotry off cable news". It talks about how top social media platforms like Google and Facebook will no longer go "without consequences" for hosting "fake news sites" (I guess that means most of the mainstream media has got to go).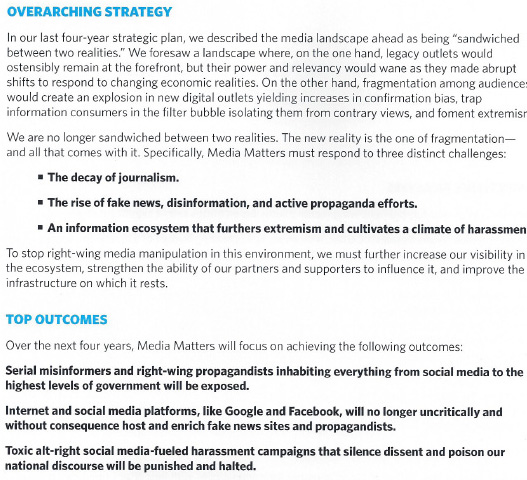 What the document is referring to when it uses the term "fake news" are in fact "alt-right" news websites such as Breitbart, which is mentioned throughout the playbook.  In essence, any conservative news or even news that isn't critical of President Trump, is considered fake in their opinion and must be stopped.  In fact, page 10 of the document actually takes credit for forcing Facebook to "commit to fighting the rise of fake news".
Another shocking statement contained in American Bridge's playbook is their claim that they will hold accountable any news outlets for "even the slightest bit of normalization of Trump".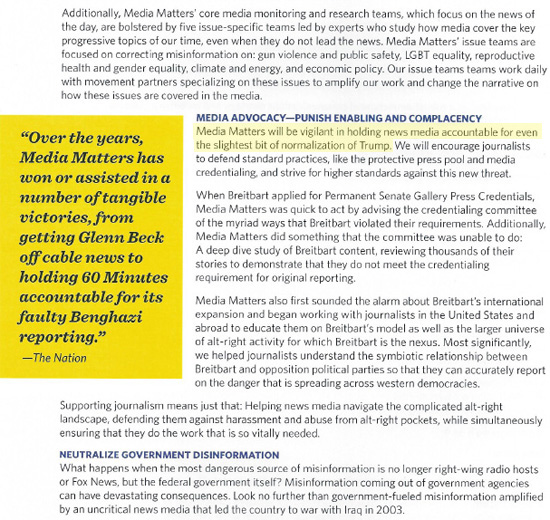 In other words, any media outlet that isn't constantly bashing Trump for any and all of his policies is not doing their jobs according to David Brock.  His group is seeking to portray President Trump's acts as widely unpopular with his support coming from only a "fringe alt-right" portion of the country.  In fact, nothing could be further from the truth, as a recent Rasmussen poll showed Trump's public approval at 59%.
During the election Breitbart News grew and became a formidable force in conservative media circles, often times effectively countering the negative narratives of the liberal mainstream press.
This playbook addresses Breitbart directly by including a section titled "The Antidote to Breitbart", which describes a sub-group of Brock's called ShareBlue.  In the playbook's own words, Shareblue is described as a "digital attacker".  In other words, an army of online trolls posting coordinated narratives against Trump on social media outlets.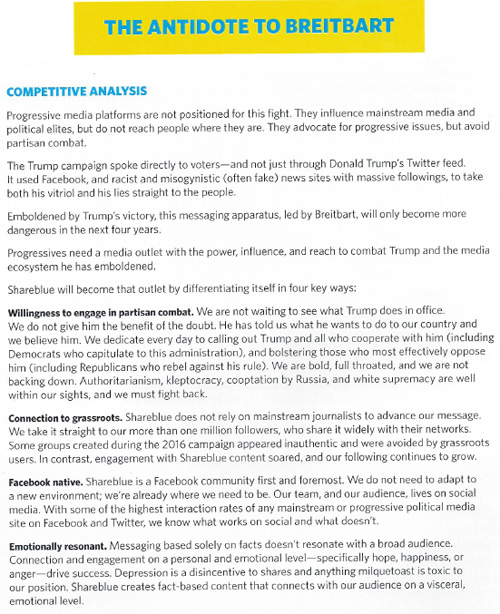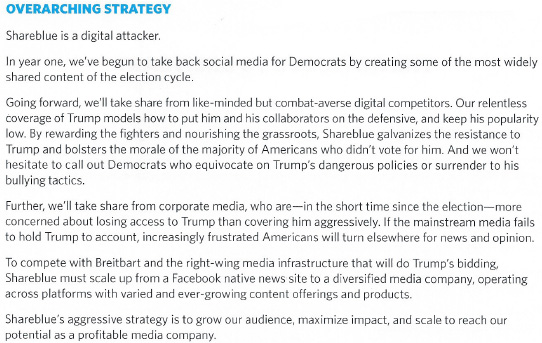 If you notice an upswing in the amount of trolls, detractors, agitators and anti-Trump commenter's on social media outlets that all seem to be parroting a similar message (as I have noticed over the past week), it's likely they are either bots or people paid by David Brock's group.   These paid commenter's are notorious for using strategies that imply they use to be Trump supporters, but claiming now he's "gone too far" and must be stopped, in attempts to demoralize real Trump supporters.
Fortunately for conservatives, the opposition groups to President Trump and his policies have only been successfully in further agitating protesters who already share their points of view anyways, and will never give this new administration a chance regardless of the facts.
It appears the Democrats and their allies are simply taking their failed strategies of the past and presenting them in a different manner, putting a new coat of paint on them while attempting to instill confidence in their compatriots. So when the mainstream news parrots yet another anti-Trump narrative, they can all give themselves a collective pat on the back for their perceived achievements.
What David Brock and his constituents fail to realize is that Trump's swift actions and following up on his promises to voters is more effective than any dirty underhanded strategies their addled brains can come up with.
---