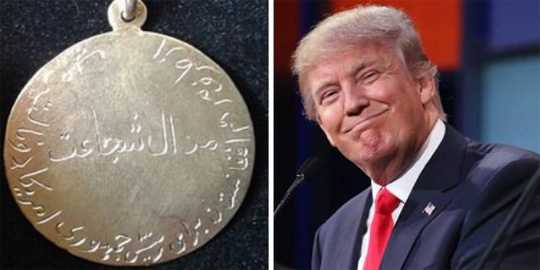 President Donald Trump received an honorable Medal of Bravery from 300 village elders in Logar province, Afghanistan, for his recent tough talk regarding Pakistan and his decision to suspend financial aid to the country.
Tribal leaders in Logar province chipped in 45,000 afghanis (about $650) to pay for a handmade gold medal, which was in turn presented to the US Embassy over the weekend in addition to a letter of appreciation for taking a tough stance on Pakistan's suspected support for Islamic terrorists operating in Afghanistan. One village elder said they have been "waiting 16 years" for a US administration to get tough on Pakistan.
The medal is inscribed with the following: "For bravery, from the Afghan people to Donald Trump, president of the United States of America."
The medal was awarded less than two weeks after Trump, in his first tweet of 2018, accused Islamabad of accepting $33 billion in aid since 2002, while giving "nothing but lies & deceit" in return. Days later, the White House said it would hold back $2 billion in military support until Islamabad did more to fight terrorism.

People here have long protested that Pakistan gives terrorists safe haven, said Farhad Akbari, a tribal leader of Logar province, which is situated south of the Afghan capital. Until Trump, he said, those protests seemed to fall on deaf ears.

"No one would listen to our cries," he said. "The main reason the U.S. is in Afghanistan is because of Osama bin Laden and al-Qaida, but [bin Laden] was killed in Pakistan."

Akbari noted that top Taliban leaders — founder Mullah Mohammad Omar and Omar's successor, Mullah Akhtar Mohammad Mansour — had found sanctuary in Pakistan. Omar died in Pakistan in 2014, and Mansour was killed in a drone strike there in 2016.

Radio Free Afghanistan first reported about the medal on Sunday. An embassy official confirmed the medal had been presented but declined to provide any further details.

The president's remarks exposed Pakistan's "true face," said Akbari, who said he has fought the Taliban in Logar province.
Although you will be hard pressed to find this story anywhere within the typical mainstream media anti-Trump outlets, it sends a significant message regarding President Trump's foreign policy and "tough talk".
1/1President Donald J.Trump awarded by Gold medal of bravery and appreciation letter from Well known Tribal Elders in Afghanistan due to his strong and straight engagement with Pakistan about decade long war in Afghanistan. pic.twitter.com/HMSr2tXaJl

— Hewad Jhan Hemat (@Drhewadhemat) January 14, 2018
When Trump announced he was cutting aid to Pakistan earlier this month, the mainstream media predictably criticized his choice, even going so far as to release headlines specifically informing their readings that this was a "bad" decision such as the following headline found at the Washington Examiner: "Trump cuts aid to Pakistan. Bad". If this isn't biased journalism, I don't know what is. At least their anti-Trump readers will know to criticize Trump's decision on social media in addition to their usual rants and ravings.
At least it appears the writers at the Washington Examiner has the presence of mind to realize their rabid anti-Trump readers wouldn't know if the president's decision to cut aid to Pakistan was a good or bad decision, thus they felt the need to specifically include the word "bad" in their headline.
It appears Trump's decision to cut aid to Pakistan is being much better received in Afghanistan, where many citizens have been suffering under the brutal Taliban regimes. A regime which many in Afghanistan believe is receiving shelter and support from the Pakistani government.
It should come as no surprise that the mainstream media is steering clear of this story, as not only does it portray President Trump as making sound foreign policy decisions, but he is also receiving gratitude and appreciation from a majority Muslim population. As the media would have you believe, all Muslims must hate Donald Trump for his remarks regarding the threat that radical Islamic terrorism poses to America, as well as his support for shutting down immigration from several predominately Muslim countries for a time.
However, President Trump is receiving far better treatment from village elders in Afghanistan than from the mainstream media and far-left Americans, who ironically he is nevertheless working for on a daily basis to improve their lives through tax cuts, improved national security and a booming economy.
---