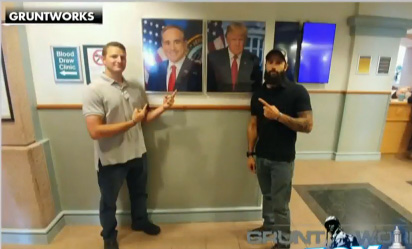 Drama ensued at a VA Hospital in West Palm Beach, Florida, after a veteran noticed the building was missing a portrait of America's president, Donald Trump, and a local lawmaker attempted to hang one up.
The issue started when patients at the hospital noticed the missing presidential portrait, which is typically standard in most government buildings, and reached out to their local Republican Congressman Brian Mast for assistance.  Patrons of the hospital also pointed out that a portrait of Barack Obama was present for his entire terms in office, yet just a empty frames faced them where a picture of Donald Trump should be.
Congressman Mast, an Army Ranger veteran himself who lost both his legs from an IED blast in Afghanistan and was just elected in 2016, took it upon himself to remedy the missing President Trump portrait. Mast brought an official portrait of the president along with one of the new Secretary of Veterans Affairs David Shulkin Tuesday morning in response to complaints from the hospital's veterans.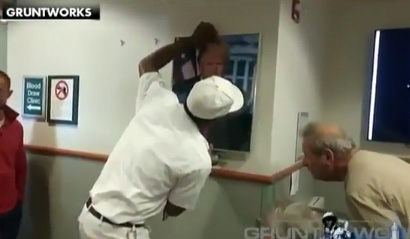 Unfortunately for Mast and the veterans hoping to see a portrait of President Trump on their next visit, the VA Hospital's management and immediately removed the photos.
The management at this particular VA Hospital used a technicality to immediately undo the work that Congressman Mast and fellow veterans had just performed, claiming "they could not authenticate the photos", as if they couldn't tell the photo was indeed of President Trump and it could have been an imposter.  Congressman Mast had obtained the portrait from official sources, yet because it wasn't sent to the VA Hospital from their central office, they used that fact as an excuse to remove it.
After reports that the newly hung portraits of President Trump and Secretary of Veterans Affairs David Shulkin were taken down by hospital management, Fox News picked up the story and interviewed the Congressman who hung them up.
When Republican congressman and Army veteran Brian Mast saw that a Florida VA hospital didn't have photographs of President Trump and Secretary of Veterans Affairs David Shulkin hanging in the lobby, he took action. Mast and a group of local veterans brought portraits of Trump and Shulkin to the West Palm Beach VA Medical Center and demanded they be installed, and the whole thing was caught on camera.

They were successful, but within hours management at the hospital took down the pictures. Their reason? They could not authenticate the photos and they have to follow protocol. A VA spokeswoman said that the congressman's actions and the actions of the veterans who accompanied him were "inappropriate." She said that portraits on display at the VA need to come from the central office. Mast, who lost his legs in an IED blast in Afghanistan and still receives treatment at the West Palm Beach VA facility, expressed his disappointment on Twitter.
Congressman Mast joined Fox & Friends to discuss the ordeal, and how sad he is that the veterans who contacted him requesting Trump's portrait be hung up will be disappointed once again.
The Congressman  took to Twitter to further express his disappointment with the VA management's decision.
After so many vets contacted me, disappointing to see resistance from VA over hanging portraits of Commander in Chief & VA Secretary. https://t.co/tHIznwut7q

— Rep. Brian Mast (@RepBrianMast) March 15, 2017
You better believe that if someone walked in to the VA with a picture of Obama when he became president and hung it on the wall, you wouldn't hear a peep out of the management there.  Just imagine the backlash from the left if a VA hospital, or any government building, refused to hang a portrait of newly elected Barack Obama despite technicalities.  The cries of "racism" would be heard around the world from the mainstream media for weeks.
However, since the anti-Trump forces are so embedded in the media and every government agency, hostile actions and open rebellion against the President of the United States seemed to be sadly tolerated.  Only Fox News and alternative news outlets appear to carry stories such as these anymore, and are usually brushed aside by the rapid breaking stories being made public now on an hourly basis.
Regardless of the outcome, Congressman Mast and his fellow veterans should be commended for taking it upon themselves to respect America and the country's leadership.
---
Want to help President Trump fight back against the biased press? Become a contributor and submit your content.