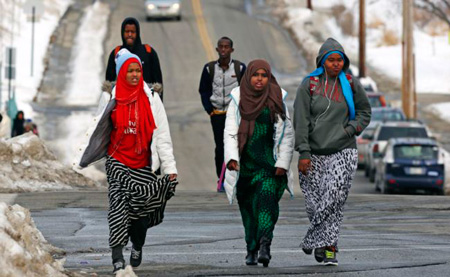 Under President Trump's three short months in office 4,000 Somali immigrants in the U.S. are set to be deported, with some being held in immigration detention centers under the supervision of Immigration and Customs Enforcement (ICE).
The Somali U.S. ambassador reported that his embassy has discovered that America's immigration enforcement departments are planning to deport approximately 4,000 Somali immigrants living in the country.  This is a huge increase over the number of Somali deportations in 2015 when only 170 were successfully deported back to Somalia's capital of Mogadishu, most due to their asylum request being rejected or committing crimes.
Since President Trump and Attorney General Jeff Sessions started instituting policies enforcing immigration law much more aggressively than past administrations, ICE agents have reportedly been aggressively targeting illegal aliens who have committed crimes in the United States and have some sort of criminal record.  In fact, ICE agents recent rounded up a series of illegal immigrants around Washington D.C. at the end of March, all have criminal records with some committing multiple serious crimes.
ICE agents recently arrested 82 people from 26 nations during a five-day operation in and around the U.S. capital.

According to a statement from ICE, 68 of those detained March 26-30 had previous criminal convictions, for crimes including armed robbery, larceny and drug offenses. All but three were arrested in the state of Virginia.

One of those arrested last month, Awad said, was a 50-year-old Somali man who identified himself as second in command of Somalia's National Security Service. He had previously been deported to Somalia in 1996.

"According to ICE, he came back to the U.S. in 1997 under a different name," the Somali envoy said. "In 2014, he was jailed for 11 months for forgery and drug-related crimes, and since then has committed several other felonies."
President Trump is expected to ramp up deportation efforts throughout the year while Jeff Sessions sets his sights on sanctuary cities with the goal of applying pressure to attempt to convince their leaders, the vast majority of which are Democrats, to enforce federal immigration laws that are already instated.
---
Want to help President Trump fight back against the biased press? Become a contributor and submit your content.