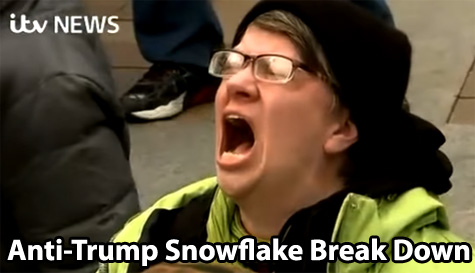 A video has gone viral of a social justice warrior, who perfectly espouses the "snowflake" babysitting culture that has swept the younger generation, having a complete breakdown at the moment Donald Trump is sworn in as the 45th President of the United States.
Oddly enough, this girl even looks exactly like the cartoons and memes spread around that criticize the typical "3rd wave feminist", and social justice warriors educated in safe spaces who are woefully unprepared for the real world.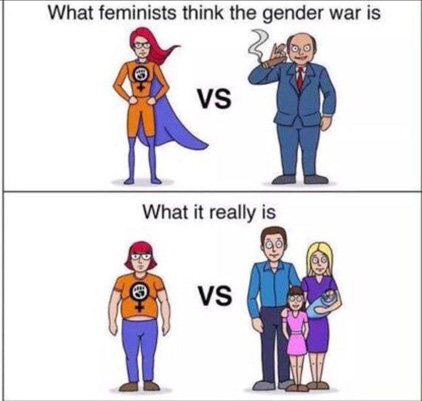 Just as Donald Trump is taking the oath of office the girl starts crying (faked) and screaming "Noooooo" at the top of her lungs while flailing her arms wildly about.  If you didn't know the context of the video, you would think her loved ones (if she has any) had just been murdered before her very eyes, but instead her breakdown is simply because a president she did not vote for (probably didn't vote at all) was being sworn into office.
Viewers have pointed out that at the 0:12 mark the girl briefly looks up, as if you make sure she was still being filmed, and her childish tantrum was caught on camera.
She probably won't be receiving any acting positions anytime soon with such an obviously planned performance.
I tried finding at least one comment in support of this "brave" social justice warrior's performance, yet all I found were viewers reveling in her snowflake meltdown. Here is just a sampling of the reaction of this sensitive leftist, notice how many refer to this woman as a "guy", which maybe I'm mistaken and it actually is just a very beta male.
- That guy screaming is an idiot

- Still can't figure out if that's a man or a woman.  It's like the real world equivalent of Pat from SNL (back when SNL was still remotely funny).

- I can't tell what gender that person is. Are they Male, Female, or Apache Attack Helicopter?

- The protester looked like my cousin's two year old when she hasn't had a nap.

- This is the best Christmas present i could hope for, no need to buy me Christmas presents for the next 4-8 years.. popping champagne

- I can't describe my pure delight when I watch this! The thought of just how shattered the snowflakes are brings joy to my soul!

- She's a paid actor, hope she enjoys the 15 seconds of fame as much as I enjoyed laughing at her.
Keep it coming snowflakes, as with every meltdown you are only discrediting your anti-Trump protests and showing the real world that they are nothing more than temper tantrums from sore losers who were never told "no" as children.