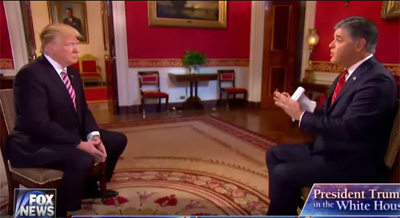 In President Trump's first cable news interview since the inauguration, he spoke with Fox News anchor and radio personality Sean Hannity about the issues facing our nation today, as well as how he intends to fix them.
President Trump touched on a wide range of topics, most of which he also addressed during his campaign, and now that he is officially in the White House he is moving at a rapid pace to follow through on his promises to the American people.
First, Trump addresses the "fake news" reports that circulated after his inauguration that he had removed the bust of Martin Luther King Jr. from the Oval Office, which the media quickly pounced on and tried to once again push the racist narrative on the new president.
Trump also took aim at the media, bringing up the false report that he had removed a bust of Martin Luther King Jr. from the Oval Office.

"They're not saying the bust is taken out, what they're saying is I'm a racist. That's what they're saying. That's a very serious charge," said Trump.

The Time magazine reporter who made the error quickly apologized.
He also talked about how we are going to fight ISIS, describing them as "sneaky rats", and how we need to use unconventional tactics when facing an unconventional war.
"When you're fighting Germany and they had their uniforms, and Japan and they had their uniforms and they had their flags on the plane, and the whole thing," Trump said. "We are fighting sneaky rats right now that are sick and demented. And we're going to win."

He said that one of the tactics he is exploring in the fight against terror is "enhanced interrogation," including waterboarding. "You have even a doubt that it works?" Trump asked. "None." Hannity replied. "Neither do I."
President Trump spoke about his "extreme vetting" of immigrants from terror prone nations attempting to enter our country, talking about the need to not "take chances".
He said there are more than 1,000 terror-related FBI investigations going on "all over" the country.

"These are people that we let in. We don't need this. … We can't take chances," said Trump.

He said the U.S. has taken in "tens of thousands of people" who cannot be properly vetted by authorities because they have no "papers."
See the full interview below as Trump lays out his aggressive agenda for the American people and empowers millions who have been disenfranchised by past administrations.