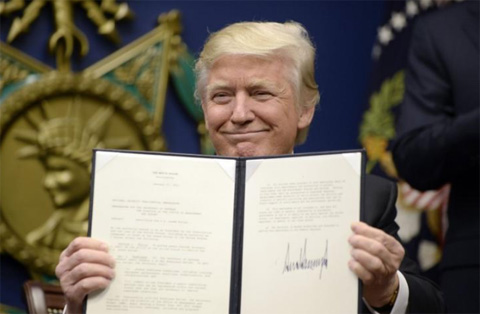 The Supreme Court announced today that they have rejected the lower court's orders that had blocked President Trump's travel ban on terrorism prone countries earlier this year.
All nine Supreme Court Justices agreed with Trump and his lawyers, who upheld that the president has broad powers to restrict or suspend entry into the United States by foreign aliens. However, the only caveat to the justice's agreement was that any individual from the countries listed in Trump's travel ban who have an existing relationship with America (employment, family or education, etc) can still enter the country.
Regardless of those exceptions, Trump can now instate the 90-day travel ban in order to institute stronger and more effective vetting practices. This would allow the ban, which effects those coming from Iran, Libya, Somalia, Sudan, Syria and Yemen, to remain valid despite having been issued in March.
Three justices dissented with the decision to even allow those with existing relationships in America to enter, arguing that the president has the authority to ban them as well. Justice Clarence Thomas, joined by Samuel Alito and Neil Gorsuch, said the government has shown it is likely to succeed on the merits of the case, and that it will suffer irreparable harm with any interference. Thomas said the government's interest in preserving national security outweighs any hardship to people denied entry into the country. However, don't try to convince far-leftists that facts, logic and safety override someone's personal feelings.
President Trump took a victory lap today, hailing the court's decision as yet another victory, coming shortly after the Democrats lost the so-called "referendum on Trump" in Georgia's 6th District special election last week.
"Today's unanimous Supreme Court decision is a clear victory for our national security. It allows the travel suspension for the six terror-prone countries and the refugee suspension to become largely effective," Trump said in a statement. "As President, I cannot allow people into our country who want to do us harm. I want people who can love the United States and all of its citizens, and who will be hardworking and productive."

"My number one responsibility as Commander in Chief is to keep the American people safe. Today's ruling allows me to use an important tool for protecting our Nation's homeland. I am also particularly gratified that the Supreme Court's decision was 9-0."
Democrats and left-wing media outlets, eager to try and put a negative spin on Trump's victory, attempted to criticize the president for claiming a 9-0 supreme court decision. In reality, all nine justices agreed that the majority of the ban should be put into effect. As stated above, the three most conservative justices, which included Neil Gorsuch, felt that the entire ban should be approved without any exceptions applying to those who have existing relationships with America.
The court's full opinion on Trump's travel ban can be viewed below:
Recall that back in February when the first federal judge placed a stay on Trump's travel ban, Judge James L. Robart from Washington State, President Trump sent out a tweet blasting the "so-called judge" and claimed that the ruling would be overturned. It appears Trump is cruising on his way to being proven right, yet again.
The opinion of this so-called judge, which essentially takes law-enforcement away from our country, is ridiculous and will be overturned!

— Donald J. Trump (@realDonaldTrump) February 4, 2017
Although the Supreme Court has only temporarily allowed the travel ban and will be hearing the full arguments when they reconvene this Fall, their decision today indicates they will likely be approving the ban regardless of the left's fanatic struggle against national security.
Once again, the 9th Circuit Court justices who upheld a stay on Trump's travel ban despite the Constitution clearly vesting the power of national security on the president, has been overturned. This only adds to the 9th Circuit's already illustrious title of "most overturned circuit court in America", as close to 80% of their rulings that are challenged in the Supreme Court end up being overturned.
This decision by the Supreme Court today only proves the lower courts were making their rulings based purely on their own political opinions, which happen to fall on the extreme left of politics, and purposefully disregarding the law in favor of attacking Donald Trump's policies.
Look at what this country has been put through by angry, leftist judges who have no interest in the law or constitution, but only their own policy preferences and liberal beliefs. Take a good look at how the left is willing to decimate the country and cause unprecedented anger throughout their constituents, all because they did not win the presidential election. That's what this entire battle between the left and a duly elected Trump administration boils down to. The Democrats not winning an election and being angry that the American voters disagreed with them, along with the entire mainstream media, which threw all journalistic standards aside in favor of trying to prevent Trump from being elected as president.
The Democrats lost an election, so they will attempt to resist what over 60 million Americans voted for, and that is the agenda of President Donald Trump.
Fortunately, the Supreme Court put more value on the national security and the safety of America's citizens than it did on far-left policies, which would see the nation's borders flung wide open. For a glimpse of how well open borders workers out for Western countries, simply take a look at the shocking increase in terror attacks and crime in European countries that have allowed millions of unvetted migrants from third-world to flood their communities.
---