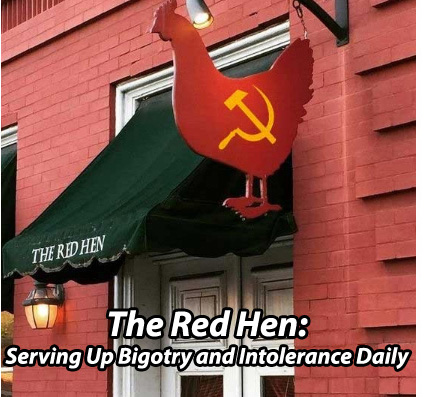 A small, previously unknown restaurant to most of America became national news over the weekend after the owner ejected Press Secretary Sarah Sanders from the establishment, with the owner claiming she made the choice based on moral grounds.
The Red Hen restaurant, located in Lexington, Virginia, was thrust into the political battle between the anti-Trump leftist and pro-America First Trump supporters. The owner, Stephanie Wilkinson (who is reported to be a cousin to renown anti-Trumper Meryl Streep) not only told Sarah Sanders to leave, but said the reason was because "the restaurant has certain standards" and her decision was based on "moral standings".
Wilkinson also said in an interview with The Washington Post that she would "absolutely" kick Sanders out again if she set foot in her dining establishment and was entirely unapologetic.
"Absolutely, yes, I would have done the same thing again," the Red Hen owner said. "We just felt there are moments in time when people need to live their convictions. This appeared to be one," Wilkinson stated.
One look at Wilkinson and her family tells readers all they need to know about exactly where they stand politically.

Needless to say, Wilkinson may think differently after the reaction from Americans who found her actions to be abhorrent, discrimination and hateful.
It didn't take long for the Red Hen to get "Yelp-bombed" with negative reviews, promptly plunging their reviews to the single star range, such as the following:
"Despicable and outlandish behavior. The only thing served here … if they agree to serve you … is a heaping plate of arrogance and hypocrisy," Yelper Russell H of McKinney, Texas, wrote on Saturday morning in a one-star review.
Another reviewer was "appalled at how disrespectful they were to President Trump's staff."

On Saturday, the Red Hen was forced to close their doors and turn off their phones after they were bombarded with callers expressing their outrage, while some callers were making reservations with the intention to never show up.
Usually, politics aren't on the menu at the Red Hen, Wilkinson says. "I'm not a huge fan of confrontation. I have a business, and I want the business to thrive. This feels like the moment in our democracy when people have to make uncomfortable actions and decisions to uphold their morals." That business was mired firmly in controversy Saturday, with trolls of both flavors clogging the Red Hen's Yelp page (which now has two stars), its reservation line, and even shouting from the sidewalk in Lexington. The restaurant opted not to open Saturday night, writing in an email that "We would like to avoid exposing our patrons to any potential unpleasantness from outside entities."
Wilkinson, the owner of the Red Hen, stated she's "not a huge fan of confrontation", which only displays her own hypocrisy as she had no problem driving to her restaurant from her home when she found out Sarah Sanders was there, confronting her, and forcing her to leave the establishment.
Not only did Wilkinson remove Sarah from her restaurant, but she actually followed Sarah Sanders to a neighboring resteraunt to continue to harass her, according to Mike Huckabee when interviewed on the Laura Ingraham show.
According to Mr. Huckabee the owner of the Red Hen restaurant not only kicked out Sarah Sanders and her in-laws, but she followed them to another restaurant, organized a group of people to assist her efforts, and then led an angry mob in continued harassment of the Sanders family.
For someone who claims to not be a "huge fan of confrontation", she should went out of her way to confront Sarah Sanders, who apparent crime was nothing more than supporting America's President, Donald Trump. Hatred of this kind isn't natural for human beings, it is learned, and without a doubt the mainstream media is the culprit behind corrupting, enraging and indoctrinating those who are already overly emotion or unstable in America.
Speaking of President Trump, it didn't take long for him to chime in, saying the Red Hen is dirty on the inside and outside.
The Red Hen Restaurant should focus more on cleaning its filthy canopies, doors and windows (badly needs a paint job) rather than refusing to serve a fine person like Sarah Huckabee Sanders. I always had a rule, if a restaurant is dirty on the outside, it is dirty on the inside!

— Donald J. Trump (@realDonaldTrump) June 25, 2018

It's important to note that some of the left are claiming that this situation is just like the Christian cake baker who refused to make a cake for a homosexual couple based on his religious beliefs.
This is false analogy, as the Red Hen owner did not make this decision based on religious beliefs, but rather her own skewed sense of morality. Furthermore, conservatives are NOT calling for the government to step in nor are they filing lawsuits to try and force the restaurant owner to serve Sarah Sanders.
The left, by harassing and discriminating against conservatives, is accomplishing nothing but their own destruction. Do they really believe average middle-America voters are watching this brand of hate and approving of it? Is it really going to drive anyone to the polls to vote Democrat, besides the small minority who are already frantically hateful of the president?
Imagine, if this is what's occurring when the Democrats are the minority in Congress and don't hold the presidency, what kind of increased attacks would we see if the won back political power? Judging on all the hatred we have thus witnessed, they will seek to punish Trump supporters in the worst ways possible…
---