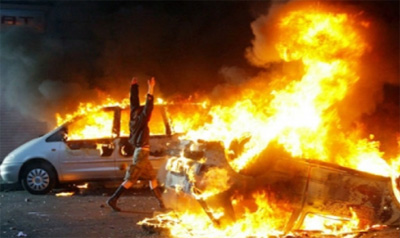 As the media and pundits explode once gain at comments made by President Trump last weekend, where during his rally in Florida he mentioned issues in Sweden due to their open borders policy, the reality is Trump was massively understating the crisis their country is facing at the hands of migrants.
While Trump was speaking about his policies regarding stricter immigration and vetting practices he said "You look at what's happening last night in Sweden. Sweden. Who would believe this? Sweden. They took in large numbers. They're having problems like they never thought possible."
Although Trump was actually referencing a report he saw on Fox News, which he later clarified on Twitter, the mainstream media cried foul, insisting that he misspoke and there were no recent attacks or important events at the hands of migrants in Sweden.
Give the public a break - The FAKE NEWS media is trying to say that large scale immigration in Sweden is working out just beautifully. NOT!

— Donald J. Trump (@realDonaldTrump) February 20, 2017
The Swedish government was quick to pounce on Trump's comments, claiming their mass migrant influx integration efforts are going just dandy, and stating that they were "confused" as to what issues the president was referring to in their country.
While the media and pundits thought once again they had gotten the better of Trump, the reality is more attention was put on Sweden's migrant issues than ever before, which even led to a sharp increase for the search term "Swedish rape" in Google.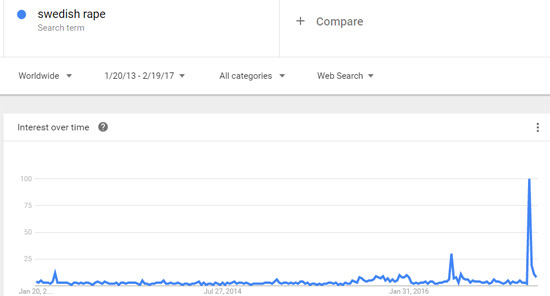 Although Swedish politicians are eager to deflect any issues caused by years of mass immigration, the reality is their country is facing a much more dangerous society problem than they'll willing to admit.
The Gatestone Institute reports, as of 2015, forty years after the Swedish parliament unanimously decided to change the formerly homogenous Sweden into a multicultural country, violent crime has increased by 300% and rapes by 1,472%. Sweden is now number two on the list of rape countries, surpassed only by Lesotho in Southern Africa.
Unfortunately, many Swedish citizens have found out the hard way what it means to take political correctness and tolerance to the extreme, as the following headlines from Sweden illustrates a society on the brink of losing itself to migrant crime.
1. Sweden War Zone: Riots Erupt in Rinkeby After Suspect Arrested on Drug Charges
Whether Donald Trump can tell the future is still up for debate, but ironically enough only two days after he made comments about Sweden's migrant problems at his rally in Florida, a massive riot broke out in the the town of Rinkeby . One witness described it as a "war zone", as cars were burned and police were assaulted.  The Stockholm suburb where the riots took place, Rinkeby, is also known as Little Mogadishu due to it's high concentration of foreign migrants.  A 22-year resident of Rinkeby expressed his shame at living in the once peaceful town by saying, "It's bullshit, it's like living in a ghetto, one is ashamed of course."
2. Sweden Gang-Rape 'live-streamed on Facebook'
What at first was thought to be a joke or prank turned out to be a horrifying live stream on Facebook of 2 migrants from Afghanistan gang-raping a female victim.  The victim was raped for 3 hours and had her clothes pulled off by armed men until police arrived and cut off the feed.  Sweden recently instated a policy that prevents law enforcement from releasing the identity or names of any suspects involved in a crime, which is likely because citizens started to notice a very real trend emerging in who was committing most of these crimes.
3. Sweden: Increasing Violence by Asylum Seekers Against Swedes
In May of last year, a Swedish citizen was pushed in front of a speeding subway train in Stockholm. The victim was a 23-year-old Swedish student. He received skull fractures and lacerations, lost half his foot, broke his ribs and collarbone and punctured one of his lungs. The day after, a 34-year-old Algerian-Swedish citizen was apprehended for the crime.
4. Mohammed Rapes 13 Year-Old Swedish Girl in School Toilet – Gets 2 Months in Prison
That's right, Sweden has surprisingly lenient rape laws (perhaps since they never had a significant number of rapes up until a few years ago), particularly for underage suspects.  A few months in prison is not much of a deterrent for criminals intent on taking what they want from innocent citizens.
5. 60 Minutes Reporters Attacked and Beaten by Migrants in Swedish Refugee Area
60 Minutes Australia went to Sweden to capture footage of migrants and investigate claims of "no-go zones", or areas that have been completely taken over by migrants where it's said that even police are hesitant enter due to the high level of violence.  What they found out was exactly why those areas are called no-go zones in the first place.
6. Sweden Creates 55 "No-Go Zones" As It Loses Control Of Refugee Crisis
The increase in crime in recent years has caught law enforcement in Sweden woefully unprepared, since the country was previously renown for their low crime and safe neighborhoods. Swedish officer Peter Larsson told the Norwegian broadcaster NRK "All our stations are overloaded and the whole of the Malmo force is out extinguishing the car fires," fire commander Magnus Johansson told SVT. "It is a burden for our organization, but also for other people who really need our help," he added.
More recently a 47-year veteran of the Swedish police took to Facebook to give an honest account of the crime he is facing, along with who is perpetrating these crimes.
"Here we go; this is what I've handled from Monday-Friday this week: rape, rape, robbery, aggravated assault, rape-assault and rape, extortion, blackmail, assault, violence against police, threats to police, drug crime, drugs, crime, felony, attempted murder, rape again, extortion again and ill-treatment." "Suspected perpetrators; Ali Mohammed, Mahmod, Mohammed, Mohammed Ali, again, again, again. Christopher… what, is it true? Yes, a Swedish name snuck in on the edges of a drug crime. Mohammed, Mahmod Ali, again and again."
7. Swedish Migrant Worker Stabbed to Death by 15-year-old Somalia Refugee
Alexandra Mezher, 22, was working on a night shift alone with ten teenage migrants when she was attacked at the home for unaccompanied young refugees in Mölndal, near Gothenburg. She later died of her injuries in hospital.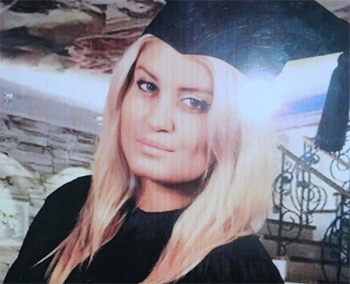 To further add insult to this women's death, the migrant center that she worked at forbid a memorial from taking place in her memory, in order to "secure the well being of the children".
8. Woman in Wheelchair Gang-Raped by 6 Migrants at Swedish Asylum Center
Just when you thought you've heard the most horrific headline coming out of Sweden that you could, you find out a wheelchair-bound women who stopped by an asylum center to use to the bathroom, was violently gang-raped by 6 migrants when she was using the facilities.  The six men in their 20's were arrested in the following days, but later released.
9. Sweden in Flames: As Gangs of Migrants Riot for Five Nights Running
It is supposed to be the model multicultural state. But in 2013 Sweden was facing problems of its own after gangs of immigrants spent a fifth consecutive night rioting  in Stockholm. Officers were battling to keep the  capital under control after hundreds of cars were torched, a police station set alight and fire services kept from  a major blaze by a stone-throwing mob of youths.  The unrest started in Husby, which is more than 80% migrant populated, after police shot a criminal suspect in the subway station.
10. Paramedics, Fire Fighters Request Police Escort Before Entering Migrant "No-go Zones"
Does a country seem like a safe place when emergency services personnel are seeking military grade gear, and police escorts when responding to calls in heavily migrant populated areas?
"The situation in the gang-controlled no-go zones of Sweden is deteriorating rapidly. Following the police report conceding the areas to the primarily Muslim immigrant gangs, the Swedish ambulance union is now demanding military grade protection gear to enter the no-go zones."
* * *
Unfortunately, this list of horrific crimes in a previously peaceful country could go on and on, as this is just a sample of the increasingly violent acts taking place in Sweden.
At what point will the Swedish people run out of "tolerance", and have their own "Trump movement" behind a politician who is willing to stop sacrificing their citizens on the alter of political correctness?  You would think after reading headlines like these it would have long since happened, but there is only so far you can push a population until they break.
It appears President Trump wasn't at all off point by mentioning the crisis in Sweden, and although it may be a slow moving process, there is no sign of migrant crime and violence stopping anytime soon.  In fact, rarely does even a week go by without a horrific rape, riot or attack at the hands of refugees occur. Migrants, who Sweden has generously opened their doors too in the name of multiculturalism, tolerance and liberal values.
---
Want to help President Trump fight back against the biased press? Become a contributor and submit your content.