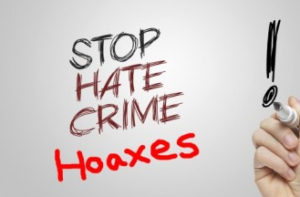 A Muslim teacher in Scotland has been caught in a hate crime hoax after claims that he was being bullied by his colleagues.
Bensalem Dahhan, alleged that colleagues within the education community circulated a letter between themselves with anti-Muslim language contained in it.  The letter made statements suggesting not to trust Muslim teachers and "moronic Asians" who cause unnecessary issues at their schools.  Also included in the note were passages attacking certain women for being "ugly" and "fat".
Stv News reports from Scotland:
Teacher 'fabricated anti-Muslim letter from colleague':

Bensalem Dahhan allegedly wrote the note to support a claim of bullying.

A teacher has been accused of fabricating an anti-Muslim letter from a colleague to support a claim of bullying.

The letter was allegedly written by Bensalem Dahhan but purported to be from one of his colleagues to another, the General Teaching for Scotland (GTCS).

It was said to refer to "moronic Asians" and the "Shawlands Academy Eid brigade" and suggest not to "trust" Muslim teachers.

Mr Dahhan is accused of anonymously circulating the letter among staff at Shawlands Academy and Hillhead High School in Glasgow in November 2013.

The GTCS alleges he is "unfit to teach" and a hearing is due to take place later this month.

It says Mr Dahhan had brought a complaint of bullying and harassment against his manager, Laura Campbell-Young.

The GTCS claims he circulated the letter anonymously along with a covering note reading: "I have accidentally come across this paperwork in Laura Young's classroom."

The letter was addressed to "Laura" from "Anne-Marie", it states.

One passage of the letter is said to have read: "Don't trust anyone around you, especially Muslim teachers.

"I say it from bitter experience as you know - they talk and can stab you in the back to support their kind."

Another passage allegedly said: "It was one of the moronic Asians in the department who must have been the well-wisher."

A third passage allegedly read: "The Shawlands Academy Eid brigade started congregating in Yahya Shaikh's classroom."

Other passages reportedly made reference to a colleague being an "ugly woman" and another being "fat".

The GTCS claims Mr Dahhan wrote the letter himself and circulated it to support his claim of bullying against Ms Campbell-Young.

His actions are alleged to have broken the GTCS code of conduct and practice.

A hearing will take place in Edinburgh later this month and if the claims are proven Mr Dahhan could be removed from the teaching register.
Bensalem Dahhan was found to have penned the letter himself to support his claims of being bullied by colleagues within his community.  Claims, which we now know are false and to have originated from Dahhan himself.
Faking hate crimes against Muslims certainly isn't anything new, especially in the United States where there were several cases of Muslim women claiming that Trump supporters assaulted them while trying to pull off their hijabs. See Muslim Teen Reported Fake Trump Hate Crime, Father Shaved Her Head for Dating a Christian and Hate Crime Hoax: Man Confesses Lying About 'Trump Country Lynching'.
Although leftists and their media allies often claim that hate crimes are running rampant across America, especially when they are claimed to be a result of Donald Trump winning the election, but in reality hate crime evidence is often extremely thin.
In fact, the true victims of hate crimes seem to be those who openly support Trump, as there have been numerous reports of attacks since Trump started his bid for president:
- 15-Year-Old Beaten, Kicked for Wearing Trump Hat During Protest in Maryland
- 4 Arrested in Brutal Beating of Trump Supporter While Yelling 'Don't Vote Trump'
- Iowa Restaurant Admits Charging Trump Voters More for Admission
- Trump Offices Vandalized in Denver and North Carolina, Foul Language Spray Painted
- Man Fired for Stealing Trump Yard Sign and Urinating on Owner's Mailbox
These are just sampling of the hateful attacks on Trump supporters, yet many of these incidents end up as nothing more than footnotes in the reporting of mainstream media outlets.
---