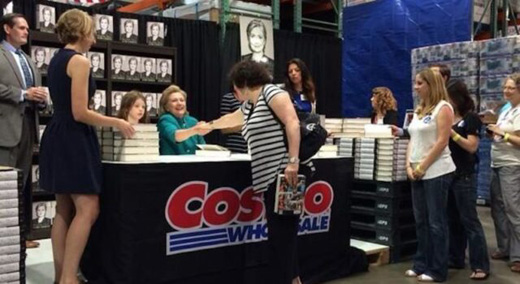 Yesterday, photos of Hillary Clinton swept social media showing her latest book signing event at Costco, but viewers quickly pointed out her quite ironic, and somewhat degrading, surroundings. Costco also took the opportunity to advertise their brand, as the banner covering the table in front of Clinton clearly displays "Costco Wholesale" in giant letters.
Hillary Clinton, former First Lady, Secretary of State and Democratic presidential candidate now seated between the toilet paper and bottled water isles at Costco, signing copies of her new book outlining the various parties, people and media outlets that she blames for her massive election loss.
Behind the toilet paper & yellow rope is where @HillaryClinton was signing books.

Yes, #WhatHappened is in the toilet paper aisle @Costco! pic.twitter.com/37j1z6CnjD

— Laura Loomer (@LauraLoomer) September 16, 2017
Clinton reportedly signed copies of her new book for about 1,000 "diehard" fans, some wearing "I'm with nasty" pins, which is a reference to Donald Trump calling her a "nasty woman" during his presidential campaign last year.
Unfortunately for Clinton, who was wearing yet another one of her best pantsuits, she was situated directly next to bulk packages of toilet paper and paper towels across from the dairy section of the store. However, this likely made it convenient for shoppers who needed to stock up on household essentials.
Hillary started her event by peeking out from behind her stack of books with a look of anticipation at meeting her dedicated fans…although she apparently didn't' have enough fans in the most important electoral states to win the presidential election.

Fans of Hillary Clinton rolled up in their motorized people movers in between shopping to shake the hand of a twice failed presidential hopeful.
And here's a picture of Hillary Clinton looking particularly maniacal, as if she's ready to become "President of Costco", starting out in the meager toilet paper isle and eventually conquering the frozen foods section of the store. Her long time dreams of dominating American politics have failed, but her aspirations of becoming the ruler of Costco seems alive and well.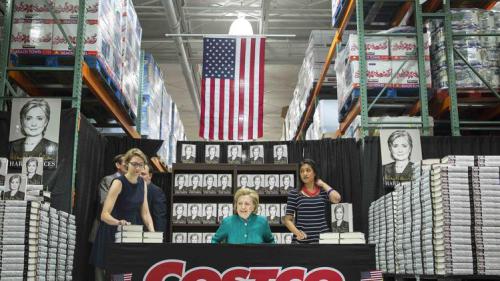 Finally, Twitter user @RennaW sums Hillary Clinton's position at Costco perfectly by comparing where she is at this very moment, as opposed to the position that President Trump Donald is currently enjoying.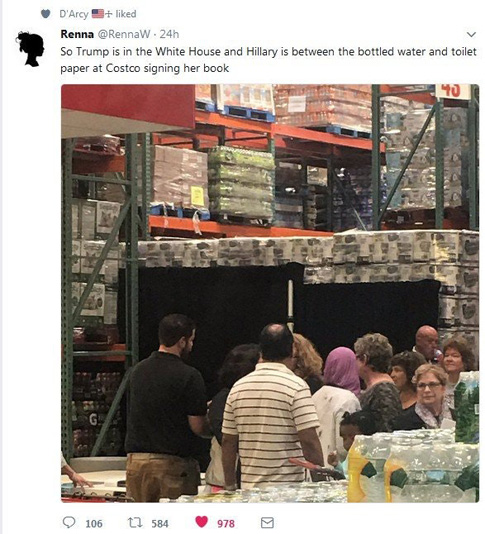 Perhaps next time Clinton appears at a chain store to sign copies of her book she could also hand out free samples of beef or cheese, even picking up a few extra dollars on the side for her service, as I expect donations to the Clinton Foundation have greatly diminished since donors will no longer be granted favorable treatment in exchange for their money due to her lack of political office.
The reality of Clinton's position was not lost on social media users, as they took to Twitter to point out the obvious irony of her greeting shoppers at Costco, as President Trump is greeting world leaders in the Oval Office.
It's 2017 and Donald Trump is in the White House, while Hillary Clinton is in Costco… pic.twitter.com/18mTzz5eGn

— RantReaper (@RantReaper) September 18, 2017
Keep an eye out for Clinton's next appearance, perhaps at a Walmart or Sears near you.
---