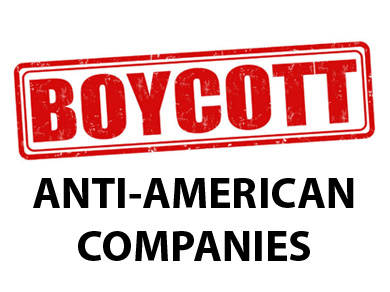 Following the horrific Florida school shooting that claimed the lives of 17 students, anti-gun advocates have been on an all out social media crusade to intimate companies into abandoning their support and partnership for the National Rifle Association.
The NRA has partnerships with many companies that offer discounts, reduced rates and special plans for NRA members. Currently, liberal organizers on social media are on a campaign urging their obedient followers to post heated messages to these NRA partners urging them to cut ties with the NRA or lose their business.
Each company below as succumbed to the pressure of Twitter/Facebook leftists and have chosen to cower in fear, rather than stand with the millions of Americans who still hold gun rights as sacred and necessary for the preservation of a free society where citizens have the right to adequately defend themselves. Nevertheless, leftist-led armies of Twitter and Facebook bots are bombarding companies with boycott threats unless they cut ties with the NRA, making a few hundred people appear as hundreds of thousands.
The following is an up-to-date list of companies to boycott for their betrayal of America, the 2nd Amendment and every single one of their customers who still has respect the country's foundation:
Enterprise Holdings
Enterprise Holdings owns Enterprise Rental Cars along with Alamo and National. Keep those in mind as well when compiling your boycott list.
Apparently, all it took for Enterprise to fold was a random Twitter user with an icon of Hillary Clinton's face who tweeted "#BOYCOTTNRA" over and over. Way to show some real backbone there Enterprise.
Thank you for contacting us! All three of our brands have ended the discount for NRA members. This change will be effective March 26. Thank you again for reaching out. Kind regards, Michael

— EnterpriseRentACar (@enterprisecares) February 23, 2018
Hertz
Like Enterprise, car rental company Hertz also ended discounts to NRA members.
Avis and Budget Rental Cars
The company that owns the Avis and Budget rental car firms provides discounts to NRA members but said it would end that offer as of March 26.
TrueCar
The online car-buying service says that NRA members save an average of nearly $3,400 off the retail price of new and used vehicles.
First National Bank of Omaha
One of the nation's largest privately held banks, announced that it would not renew a Visa credit card co-branded with the NRA.
Customer feedback has caused us to review our relationship with the NRA. As a result, First National Bank of Omaha will not renew its contract with the National Rifle Association to issue the NRA Visa Card.

— First National Bank (@FNBOmaha) February 22, 2018
Delta Airlines
Delta has also shown their weakness and cowardice in the face of leftist/socialists bots on social media.
Delta is reaching out to the NRA to let them know we will be ending their contract for discounted rates through our group travel program. We will be requesting that the NRA remove our information from their website.

— Delta (@Delta) February 24, 2018
United Airlines
Americas "most hated airline" pulled support from the NRA, as if their reputation could get any worse after charging US soldiers and additional $200 baggage fee when coming home from Afghanistan.
United is notifying the NRA that we will no longer offer a discounted rate to their annual meeting and we are asking that the NRA remove our information from their website.

— United Airlines (@united) February 24, 2018
MetLife Inc.
We value all our customers but have decided to end our discount program with the NRA.

— MetLife (@MetLife) February 23, 2018
The insurer had offered discounts to NRA members on auto and home policies before axing the deal.
Metlife responded to tweets criticizing their decision to abandon their NRA customers by saying:
"We value all our customers but have decided to end our discount program with the NRA," Metlife tweeted.
No, Metlife, you don't value ALL your customers or you wouldn't have ended a discount program benefiting ONLY members of the NRA.
Symantec Corp.
Thanks Symantec for showing how cowardly and weak you are in the face of Twitter/Facebook bots and leftists, caving to the mod's demands and pulling your discount program from the @NRA. Remember when Stephen Willeford, and NRA member, stopped the Texas church shooter with an AR-15?
Symantec has stopped its discount program with the National Rifle Association.

— Symantec (@symantec) February 23, 2018
Chubb Ltd.
They are ending participation in the NRA's gun-owner insurance program, but are provided notice three months ago. Wow, how courageous of you Chubb.
Insurer Chubb Ltd says that it will stop underwriting an NRA-branded insurance policy for gun owners. https://t.co/7yZ2OnEMWU

— Kyle Griffin (@kylegriffin1) February 23, 2018
Best Western
"Best Western Hotels & Resorts does not have an affiliation with and is not a corporate partner of the National Rifle Association," the hotel chain tweeted, without saying when the decision to part ways was made.
Wyndham Hotels
Hello Lisa. Please know, Wyndham is no longer affiliated with the NRA.

— Wyndham Rewards (@WyndhamRewards) February 20, 2018
Surprisingly, several companies whose ads are frequently featured on conservative talk shows such as have also decided to throw their hats in the ring with anti-American leftist. LifeLock and Simplisafe are frequent advertisers and are regularly endorsed on talk shows hosted by Michael Savage, Rush Limbaugh and Sean Hannity.
Both LifeLock and SimpliSafe Home Security have pulled their support for the NRA, caving to pressure from the left in a stunning display of spinelessness and weakness.
SimpliSafe
SimpliSafe, a home security services company, also ended its NRA promotions. "We have discontinued our existing relationship with the NRA," CEO Chad Laurans said in a statement.
Lifelock
Cybersecurity firm Symantec, which owns Tempe-based LifeLock, offered NRA discounts for its LifeLock identity theft protection service and Norton anti-virus software. The company told USA TODAY on Friday that it had "stopped its discount program with the National Rifle Association."
Below is a printer-friendly version of this boycott list to share and keep handy. After all, these companies weren't willing to support you and 2nd Amendment rights, so why should they receive your business ever again?
List of Companies Who Abandoned the NRA in Favor of an Anti-American Democratic Party Agenda:
Avis/Budget Rental Cars
Best Western
Chubb Ltd.
Delta Airlines
Enterprise Holdings
First National Bank of Omaha
Hertz
Lifelock
MetLife Inc.
SimpliSafe
Symantec Corp.
TrueCar
United Airlines
Wyndham Hotels
---