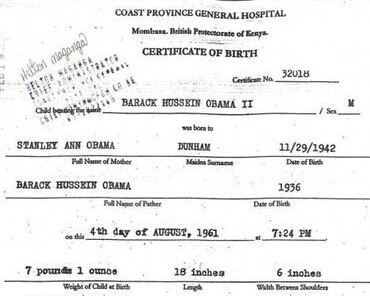 Early this afternoon Malik Obama, a vocal supporter of Donald Trump currently living in Kenya, tweeted out a picture of what appears to be the birth certificate of his half brother Barack Obama.
Malik previously caused a stir in the Obama family last year when he publicly proclaimed his support for then presidential candidate Donald Trump, in stark opposition to his half brother's endorsement of Hillary Clinton.  Since that time Malik has been a continuous supporter of Trump, using his twitter account to spread memes and other pro-Trump (or anti-Obama) messages.
Today, Malik is again catching the spotlight by tweeting a copy of a birth certificate that displays the name of his half-brother Barack, along with his vital information including his place of birth.
Surely. What's this? pic.twitter.com/jaczNXTIv0

— Malik Obama (@ObamaMalik) March 9, 2017
The issuer of the birth certificate as stated at the very top of the document is "Coast Province General Hospital" located in Mombasa, British Protectorate of Kenya. The certificate is signed by the Supervisor of Obstetrics, John Kwame Odongo, and also includes a copy Barack Obama's baby footprint, if this is indeed his real birth certificate.  It contains the birthplace of Barack's mother, which is listed as Kansas, and his father as being born Kanyadhiang Village in Nyanza province, also in Kenya. Curiously, the document also has both of Barack Obama's parents occupations listed as "students".
An enlarged picture of the top of this document is below, where you can also see what appears to be a certification stamp from the Chief Administrator at the hospital in Mombasa, Kenya.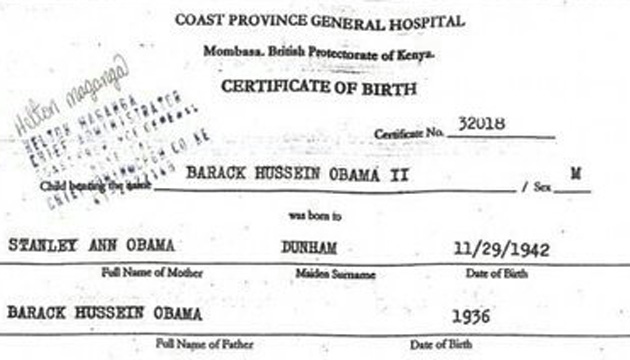 Recall that during the 2012 presidential election Donald Trump offered $5 million dollars to be donated to a charity of Obama's choice if he would reveal the long form of his birth certificate. The media at the time, as well as during the 2016 election, used Trump's "birther conspiracy" as an attack against him politically.
Also, mysteriously circumstances surrounded the death of the woman who confirmed the validity of Barack Obama's birth certificate, Loretta Fuddy, as shortly afterwards she was killed in a plane crash where she was the only fatality among the 9 people aboard the plane.
If an investigation into the validity of this birth certificate were to take place, investigators could conceivably use the baby footprint on this document and compare it forensically to Barack Obama's current footprint.  President Trump may have a serious investigation on his hands, one that would be sure to drive the mainstream media into a frenzy, and could shatter the legacy of Obama for good.
If Malik really did just out his half brother on twitter, and this is the authentic birth certificate of Barack Hussein Obama, then the Wikileaks CIA leak could look trivial compared to the massive scandal this situation would present America.
A full image of the birth certificate can be viewed below.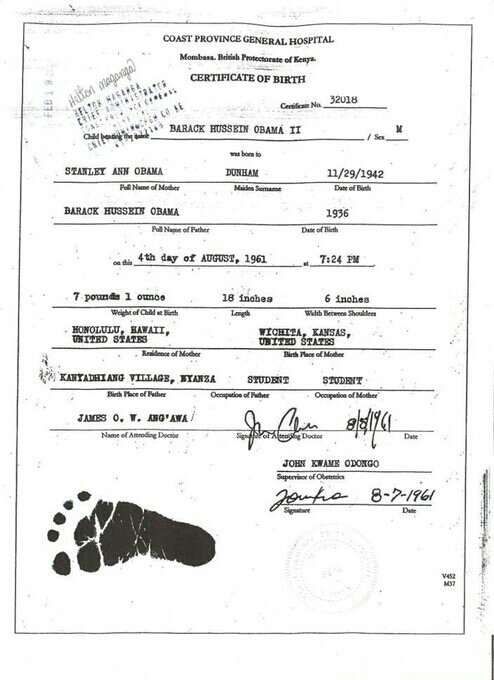 ---