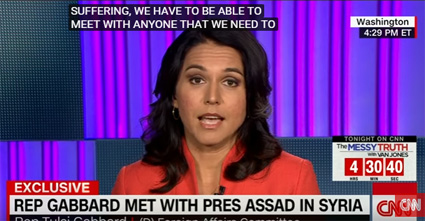 Tulsi Gabbard, a Democrat congresswoman from Hawaii who made waves in her party last year by refusing to support Hillary Clinton, has just returned from a fact-finding trip to Syria where she says she met with the Syrian people and President Assad himself.
Gabbard is an army veteran whose name became more well known after one of the Wikileaks Podesta email dumps, which showed an email from former Clinton Foundation Director Darnell Strom chastising her for supporting Sanders over Hillary, while also eliminating their funding of her campaign because of her decision..
"You have called both myself and Michael Kives before about helping your campaign raise money, we no longer trust your judgment so will not be raising money for your campaign."
It should come as no surprise then that, after her own party treated her like an outcast for daring to support a candidate other than Clinton, Gabbard decided to cross party lines after the election and met with Donald Trump to discuss the ongoing war in Syria along with the TPP (which she adamantly opposed).
On Wednesday Tulsi Gabbard returned from a trip to Syria, which she described as a "fact-finding" mission and did not previously make public.  Gabbard 's press office stated that she met with Syria's President Assad to discuss strategies to bring an end to the brutal civil war that has claimed the lives of over 400,000 people.
During an interview with CNN's Jake Tapper upon her return to the states Gabbard said the Syrian people were very happy to see her, but were not happy about the Obama administration funding and arming terror groups operating in Syria, who are trying to topple the government in order to take over the country for themselves.
Tapper started referencing tweets that were critical of Gabbard for meeting with President Assad, while also claiming that he's responsible for the deaths of thousands and even gassing his own people, trying to to make it appear as if she should never have met with such a leader to begin with.
That's where Tapper and CNN get a dose of truth that always makes them extremely uncomfortable, as they never stray too far from the established Obama/Democrat endorsed narrative.
Gabbard starts out by saying, "I'll tell you what I heard from the Syrian people, that I met with walking down the streets in Aleppo, in Damascus."
"They expressed happiness and joy at seeing an American walking their streets, but they expressed the question, why is it that the United States, its allies and other countries, are providing support, are providing arms, to terrorist groups like Al-Nusra, Al-Qaeda, ISIS, who are on the ground there, raping, kidnapping, torturing, and killing the Syrian people? Children, men, women and people of all ages."
Gabbard continues, making sure that her point was getting across clearly and that the voices of the Syrian people would be heard.
"They asked me why is the United States supporting these terrorist groups who are destroying Syria – when it was Al-Qaeda who attacked the United States on 9/11, not Syria. I didn't have an answer for that."
Tapper jumps in before it goes any further, clearly appearing uncomfortable, by saying, "Obviously the United States government denies providing help to the terrorist groups you're talking about, they say they provide help for the rebel groups…"
Gabbard jumps in, eager to point out the myth about these "moderate rebels", who the Obama administration has admitted funding and arming.
"The reality is, Jake, and I'm glad you bought up that point. Every place that I went, every person I spoke to, I asked this question to them. And without hesitation, they said there are no moderate rebels, who are these moderate rebels that people keep speaking of?"

"Regardless of the name of these groups, the strongest fighting force on the ground in Syria is Al-Nusra or Al-Qaeda and ISIS. That is a fact. There are a number of different other groups, all of them are fighting alongside, with or under the command of the strongest group on the ground that is trying to overthrow Assad."
If there were moderate rebels, then weapons and equipment that were shipped to Syria by Obama wouldn't have mysteriously always ended up in the hands of ISIS.  Who could forget the following picture from 2015 showing a Texas plumbing company's truck fitted with what looks like a makeshift anti-aircraft gun and being used by ISIS on their front lines.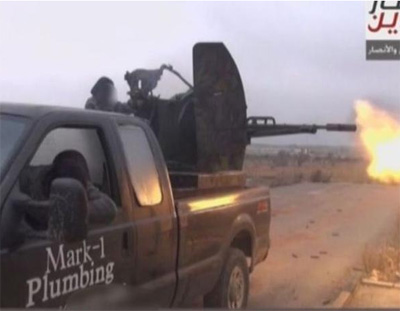 Tulsi Gabbard only confirms what many Americans who have been paying attention to the war already know, that there are no "moderate rebel" groups fighting in Syria, only government forces versus terror groups like ISIS and Al-Qaeda who want to take over the country as their own Islamist state.  The Syrian people need look no further than what happened in countries like Libya when their leader was overthrown, with the support of Hillary Clinton's State Department at the time.
Finally, Gabbard relays a dramatic plea from the Syrian people to the United States, and one that finally may have a hope of being heard since President Trump is now in office.
"The Syrian people recognize, and they know that if president Assad is overthrown the Al-Qaeda or a group like them, that has been killing Christians, killing people simply because of their religion or because they won't support their terror activities, then they will take charge of all of Syria. This is the reality of what the people of Syria are facing on the ground and why they are pleading with the United States to stop supporting these terrorist groups, and to let the Syrian people determine their own future."
Watch the full explosive interview with Tulsi Gabbard below:
---