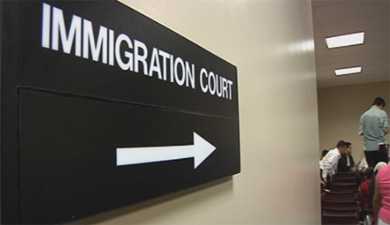 One of the main challenges of tackling the illegal immigration issue in America isn't the apprehension of illegals, but rather overcoming the enormous backlog of cases that are currently clogging the court system.
Weighed down by a backlog of more than 530,000 cases, the United States immigration courts are increasingly failing to deliver timely decisions to people fighting deportation or asking for refuge, according to interviews with lawyers, judges and government officials. Judges and clerks are overworked and facing massive stacks of cases, which many of the 56 immigration courts nationwide have been struggling with. This has caused numerous breakdowns and delays in deportation proceedings.
The media has reported that such a backlog will be become a hurdle for Trump to overcome in order to fulfill his promise to deport illegal immigrants, specifically those who have a criminal record.
In fact, former Mexico officials have publicly stated their plan to stall deportations under Trump includes attempts of "jamming up" immigration courts with thousands of hearings and challenges.
The former Mexican former minister then revealed his plan for stopping the Trump administration from deporting more people: "I want to use, as much as possible, the U.S. judicial system, the court system — and in particular immigration courts and judges — to jam the system, to backlog it so much that perhaps President Trump will change his mind and stop this ridiculous, unpleasant, hostile policy of deporting people."
With an immigration system already experiencing backlogs and massive delays under Obama, President Trump will first have to solve this problem before deportations can proceed in a timely manner. It appears Trump has already started to address this issue, however, as Reuters reports that the president's Department of Justice is set to send a fleet of judges to aid in cleaning up the backlog of immigration cases.
The Department of Justice is deploying 50 judges to immigration detention facilities across the United States, according to two sources and a letter seen by Reuters and sent to judges on Thursday.

The department is also considering asking judges to sit from 6 a.m. to 10 p.m., split between two rotating shifts, to adjudicate more cases, the sources said. A notice about shift times was not included in the letter.
One of President Trump's first executive orders took place on January 25th and was aimed at speeding up the deportation process of those waiting in detention centers for their hearings, which would aid in making an impact on a number of the estimated 11 million illegal immigrants in America. Trump's executive order also started the process of ending the "catch and release" policy instituted under Obama.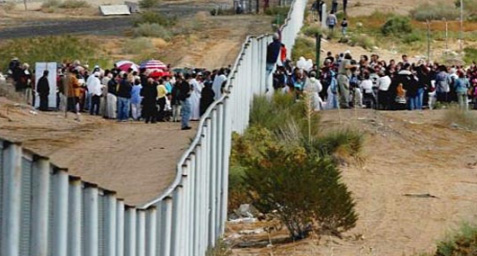 This policy allowed illegals, when caught by immigration authorities, to be issued a court date and released into the country with complete autonomy.  The problem is, many of these illegals would never show up for their hearing and proceed to blend into society, making it difficult for them to be tracked down at any later date.
Now, according to Reuter's sources, Trump has ordered the Justice Department to task 50 judges to aid detention centers in California and other locations experiencing the highest backlog of cases.
Two sources familiar with the Justice Department's plan said the department would ask more judges to volunteer for one or two month deployments at detention centers. If the department cannot find enough volunteers, the department would assign judges to detention centers, the sources said.

Judges who volunteer for the first 50 deployments would be sent to detention centers in Adelanto, California; San Diego, Chicago and elsewhere, according to the letter.

Republican Trump's policy on immigrants has been criticized by Democratic lawmakers and advocates for immigrants, who said he was jeopardizing the rights and freedoms of millions while treating Mexico as an enemy, not an ally, and damaging the country's reputation as a welcoming place for immigrants.
The report indicates that these 50 judges are only to be the first in a series of deployments aimed at reducing the backlog of cases, which prevent deportations from taking place in a timely manner.  It's likely that Trump will pursue similar actions targeting other highly backlogged locations in the future, and continue to follow up on his promise to voters to deport millions illegal immigrants taking advantage of American systems.
---
Want to help President Trump fight back against the biased press? Become a contributor and submit your content.