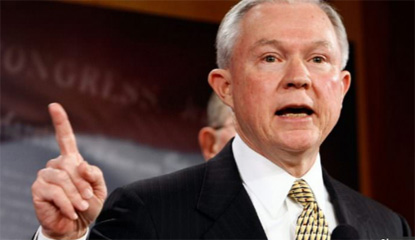 In a not so unprecedented move, Attorney General Jeff Sessions is requesting that the remaining 46 U.S. attorneys appointed under Obama issue their resignations "in order to ensure a uniform transition". In other words, the Obama lawyers likely cannot be trusted to perform their duties under Trump's administration and are being asked to resign from their posts as a result.
Earlier today Justice Department Spokesperson Sarah Isgur Flores said in a statement that Jeff Sessions is asking all 46 remaining Obama appointed U.S. attorneys to issue their resignations.
INBOX: Jeff Sessions has asked all Obama-era U.S. Attorneys to tender their resignation. This is standard practice during a transition. pic.twitter.com/ngt73NeL1S

— Kevin Daley (@KevinDaleyDC) March 10, 2017
This resignation request also applies to Obama-appointed U.S. attorney in Manhattan, Preet Bharara, who was previously asked to stay on board by the Trump administration earlier this year.
Although the mainstream media is sure to try and spin this story as a sort of "Trump purge" of the U.S. legal system, this move by his administration is not at all uncommon.
In 2007, the press criticized President George W. Bush's administration when he fired just  8 U.S. attorneys.  However, the media was relatively silent when President Bill Clinton cleaned house in 1993 and fired all 93 U.S. attorneys, favoring instead to appoint his own loyalist legal experts.
News stories reporting that the Bush administration had considered firing all 93 U.S. attorneys across the country failed to mention that that is exactly what Bill Clinton did soon after taking office in 1993.

The only sitting U.S. attorney Clinton did not cashier was Michael Chertoff, now the Bush Homeland Security Secretary. At the time Chertoff was U.S. attorney in New Jersey and then Democratic Senator Bill Bradley of New Jersey intervened to save Chertoff's job. None of this was noted, even in passing, in front-page stories today in The New York Times and Washington Post, or in the AP's story on the subject.
It should be glaringly obvious to Trump that the Obama appointed officials still operating within his administration are not loyal to his cause, nor are they dedicated to his vision for the improvement of America, and they never will be. Obama didn't appoint attorneys who tend to fall in the middle of the road in politics, but rather lawyers who hold his own far left views.
Perhaps President Trump initially believed that many Obama appointees would get on board for the sake of America, or at least for the sake of their jobs, and would not seek to impede his agenda.  Less than 2 months into his administration, however, we have learned that Obama's followers still in appointed positions remain loyal to him, and his views alone.
The President of the United States is entitled to have the men and women who he feels he can trust in his administration, a fact that these 46 lawyers are now finding out the hard way.
---
Want to help President Trump fight back against the biased press? Become a contributor and submit your content.