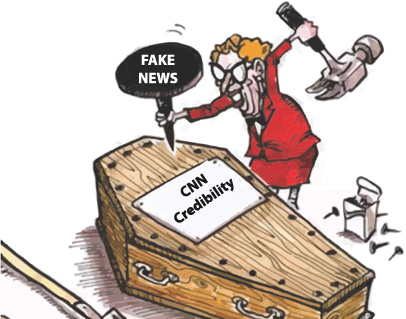 It appears President Trump's branding of CNN as a "fake news" outlet isn't just an American application anymore, but has now gone international as Venezuelan President Nicolas Maduro gave CNN the boot from his country for their attempts to manipulate the narrative and involve themselves in domestic affairs.
El Nacional, a Spanish language news outlet, reported that Maduro's decision to expel CNN from the country came after a story they published involving the alleged fraudulent delivery of Venezuelan passports to one of their embassies in the Iraq. The report was titled "Passports in the Shadows".
President Nicolas Maduro on Sunday demanded CNN in Spanish not to get involved in Venezuelan affairs. He considers that the news channel has misrepresented information. "CNN do not get into the affairs of Venezuelans.

"I want CNN well away from here. Outside of Venezuela. Do not put your nose in Venezuela," said the president from the Palace of Miraflores, in an act as part of the Youth march of Victoria.   In recent days, CNN in Spanish transmitted a program with an investigation related to the alleged fraudulent delivery of Venezuelan passports at the Venezuelan embassy in the Middle East.

Last year during the election supporters of Donald Trump, even before the "fake news" phrase became popular, targeted CNN and branded them as the "Clinton News Network" for their blatant bias in favor of Hillary Clinton while maligning Trump at every turn.  The chant "CNN sucks" became common place at Trump's rallies, as he frequently called out the "bias press" during his speeches.
Earlier last month before his inauguration, Trump hit his breaking point with CNN's biased reporting and refused to call on one of their reporters, who was rudely interrupting a fellow journalist trying to ask a question, during a press conference.  Finally, after the CNN reporter refused to settle down, Trump told him "Don't be rude. No, I'm not going to give you a question. You are fake news."
The irony is that the "fake news" title was originally invented by the mainstream media after Trump's upset win in November, as they attempted to diminish his election by claiming alternative news websites reported false stories that aid in his victory.  The term was quickly turned around on the them, as Trump supporters pointed out the various examples of biased headlines and outright "fake news" reports cranked out by the mainstream press in attempts to manipulate voters, which ultimately proved unsuccessful.
CNN was recently the center of a "fake news" controversy when they picked up on a Buzzfeed story about an unsubstantiated "Russian dossier" that made outrageous claims about Trump in a Russian hotel and blackmail material, which was later completely discredited.
---