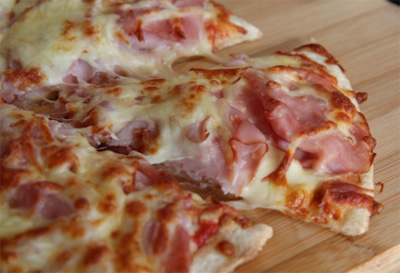 Pizza has been receiving a lot of negative attention this past year, but now that attention has turned violent, as up to five Muslim men in Denmark attacked a Danish couple for enjoying ham on their pizza, resulting in the woman suffering from hearing loss in one ear.
The attack started after a man and his 24-year-old girlfriend were enjoying a Saturday night out in Silkeborg, reportedly eating pizza while sitting in public.  According to BT, a man of "different ethnic origin", approached the couple as asked the girl if she was eating pork on her pizza.  She responded yes, as she had ham as one of the toppings.
The fact that this Danish girl was eating ham apparently enraged the assailant at that point (it's against Islamic law to eat pork) as he took the pizza slice and threw it on the ground.  An argument ensued between woman's boyfriend and the assailant, which resulted in between "two and four" additional Muslim men in the vicinity entering the fray.
At that point the girl was punched in the side of the head, resulting in hearing loss.  The Muslim man reportedly started to strangle her and yelled, "She must not f*cking eat pork on this pizza!"
The following is a report from BT (translated):
Young couple was beaten up in the street: 'She must not f*cking eat pork on his pizza!'

The attack took place on March 12th 6:07 in Nygade in Silkeborg at Pizzaria Eiffel. Here sat the 24-year-old woman and his peers, male acquaintances on a staircase while they ate pizza.

The perpetrator took one of her pieces of pizza and threw it on the ground. It developed into a scuffle, and soon after came the perpetrator group of friends and awarded her male acquaintances several punches and kicks.

Midtjyllands Avis writes that the young couple was asked if there was pork on their pizza, which they answered yes. And it was apparently what triggered the brawl.

"Suddenly a young man of different ethnic origin rushing and strikes the young girl in my head and she subsequently lost hearing in one ear. Right now, we do not know whether it is a permanent hearing damage! He takes stranglehold on her and shouting that she "sure as hell should not eat pork on his pizza!" This is according to the mother of the young man in a post on Facebook that the newspaper has seen.

Mid and West Jutland Police describe the main offender as about 175 cm high, ethnic origin other than Danish, and wearing dark clothing. Police are also looking for four other persons who participated in the attack. So basically they are looking for a Muslim gang.

To BT, Police Commissioner Bent Riber Nielsen, confirms it has been explained that the perpetrator asked about the contents of the pizza, but he has no further comments.
The incident was caught on camera in black and white, yet it's difficult to discern the identifies of the attackers due to the angle.  Below is a zoomed in screenshot showing the start of the scuffle.  From the video, it appears there were several bystanders hanging around who joined in on the attack, rather than coming to the defense of the woman and her boyfriend.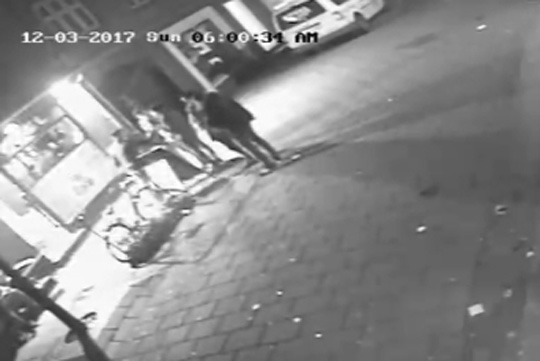 Is this really the type of mentality that liberals want imported to America, where citizens have enjoyed freedom to dine on whatever foods they like without fear of retaliation for generations, only to have to hide when eating pork?  Could you imagine a world where you could be assaulted for eating ham, or any type of food that an immigrant considering offensive, and possibly losing your hearing in one ear because of it?
That's exactly the scenario that many European countries are experiencing after opening their borders to millions of migrants from third world, under developed countries, whose very culture contradicts the freedoms of Western nations.
---
Want to help President Trump fight back against the biased press? Become a contributor and submit your content.