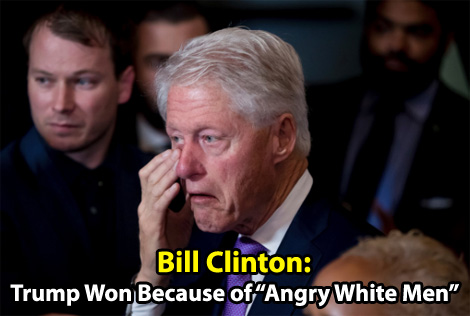 It seems there's still some bitterness over the election for the Clintons, as yesterday it was revealed in an interview with a local newspaper that Bill Clinton made some drastic implications as to why he believes President-elect Donald Trump really defeated his wife.
Yesterday, Politico reported that Bill Clinton spoke to a local paper in his area about Trump's victory over Hillary and how he thinks he achieved it.  Clinton stated that "Trump doesn't know much, but one thing he does know is how to get angry white men to vote for him."
He also blamed FBI Director Comey for costing his wife the election along with Russian hackers saying, "You would need to have a single-digit IQ not to recognize what was going on," referring to the accusations of Russia interfering with the election in Trump's favor.
Finally, Bill Clinton said that he received a phone call from Trump the day after the election and that he was "friendly like it was 15 years ago".
Today, Donald Trump has a response to Bill's allegations and also disputed that he was the one that initiated the phone call, stating that it was in fact Clinton who called him.
Bill Clinton stated that I called him after the election. Wrong, he called me (with a very nice congratulations). He "doesn't know much" …

— Donald J. Trump (@realDonaldTrump) December 20, 2016
especially how to get people, even with an unlimited budget, out to vote in the vital swing states ( and more). They focused on wrong states

— Donald J. Trump (@realDonaldTrump) December 20, 2016
Donald Trump does have a point.  He couldn't know that much about getting "angry white men" to vote for him, since Bill Clinton appears very angry and he didn't (or maybe he did and didn't tell anyone) vote for Trump.
The leftist media will likely slam Trump once again for using Twitter to defend himself, yet never point out the fact that he is only responding to a very personal insult levied at him.  They make the argument that Trump should "rise above" or "take the high road" when faced with these insults, but they never criticize the liberals who are attacking him first.
No, the time for the high road is past, as the left will never stop attacking Trump and undermining him at every turn unless he stands up and fights back by not allowing them to dominate the narrative.  Recall that throughout George Bush's presidency in 2000, he took the high road and never fought back against the bias press, choosing to ignore their attacks instead, and it ended up diminishing the strength of his administration.
It should be refreshing for Republicans that, after years of weak in the knees leadership surrendering to the Democrats every whim, they now have a leader who will not roll over and a president who will fight for conservative values.