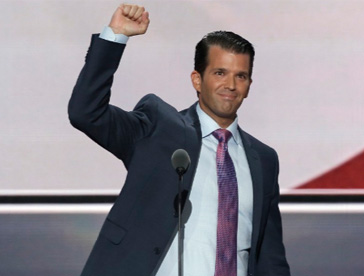 It looks like Donald Trump's eldest son, Donald Trump Jr., has been picking up a few Twitter tips from his father, as after today's horrific terror attack in London he blasted Mayor Sadiq Khan for previous comments where he encouraged the accepting of terror attacks in large cities.
Hours after a yet unnamed terrorist crashed his car into a crowd of people at the Parliament Building in London, as well as killing a police officer with a knife, Donald Trump Jr. resurrected a comment by London's first Muslim mayor and avid Trump critic Sadiq Khan.
In September of last year, after a bomb exploded in Manhattan that injured 29 people, Sadiq Khan said in an interview that terror attacks are "part and parcel of living in a big city", implying that these horrific events are just something citizens will have to get use to as a byproduct of open borders.
"It is a reality I'm afraid that London, New York, other major cities around the world have got to be prepared for these sorts of things. That means being vigilant, having a police force that is in touch with communities, it means the security services being ready, but it also means exchanging ideas and best practice," said Khan, who has called President Trump's take on Muslims "ignorant."
No mention of preventing terror attacks from happening in the first place, but instead an attitude of acceptance and being "prepared" for such events and loss of life according to Kahn.  The best preparation for a terror attack is preventing them from happening in the first place, treating the cause of the disease rather than the symptom will always be more successfull.
Donald Trump Jr. didn't forget Kahn's passive attitude towards terror attacks and make sure that the public was also aware via Twitter.
You have to be kidding me?!: Terror attacks are part of living in big city, says London Mayor Sadiq Khan https://t.co/uSm2pwRTjO

— Donald Trump Jr. (@DonaldJTrumpJr) March 22, 2017
The terror attack at the Parliament Building in London, which has now resulted in 5 deaths and 40 people injured, is a reminder that whenever security is sacrificed on the alter of political correctness, death and destruction surely follows.
Are social justice themes and open borders really worth the lives of innocent civilians on any scale? Will liberal politicians and judges in America need to witness an entire school bus full for children massacred before they'll accept Trump's travel ban and security measures? According to advocates for unbridled immigration and refugee intake, the answer appears to be yes.
The very "tolerant" liberals who have complete tolerance for opening a nation's borders to potential terrorists and murders, seem to have no tolerance for those trying to speak reason for the sake of their nation's safety.
---
Want to help President Trump fight back against the biased press? Become a contributor and submit your content.