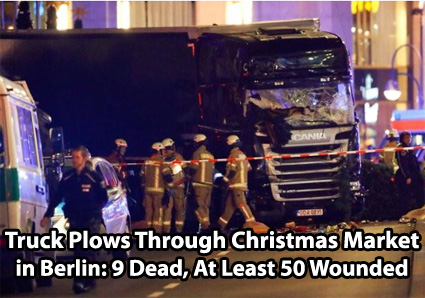 UPDATE: The Washington Post is now reporting that ISIS has claimed credit this attack.  "ISIS takes credit for the attack, according to Iraqi sources".
UPDATE … #ISIS takes credit for fatal truck attack on #Berlin Christmas market - https://t.co/6G23PZnm3B - @washtimes

— The Washington Times (@WashTimes) December 19, 2016
Reuters is reporting that 1 suspect is dead and 1 arrested in Christmas Market truck attack.
One suspect dead and another arrested after truck plows into crowd at Berlin Christmas market: police on local TV https://t.co/SpvAO9gBM6

— Reuters Top News (@Reuters) December 19, 2016
BREAKING: German police arrest driver suspected of plowing truck into crowd at Christmas market in Berlin: police spokesman on local TV

— Reuters Top News (@Reuters) December 19, 2016
Original Story on Christmas Market Truck Attack:
In what appears to be a possible second terrorist attack today, the first being the assassination of the Russian ambassador in Turkey, a large truck plowed through a Christmas Market in Berlin, Germany.
The truck slammed into the crowded market at about 8:00pm local time, reports are coming out that at this time 9 people have been reported killed and at least 50 injured. German police are saying the first indications are that this was a deliberate terror attack.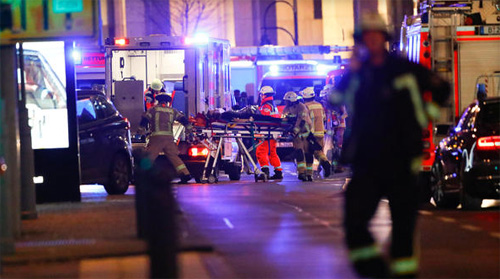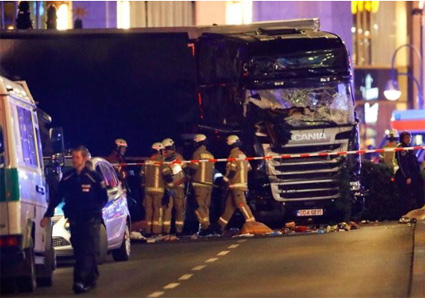 The following is a translation from Welt.de to English:
In Berlin Breitscheidplatz at the Kaiser Wilhelm Memorial Church, where a large Christmas market takes place, is driven a truck on a sidewalk on Monday evening. There were several dead and at least 50 injured.

According to police, it is probably an attack. This is what a spokesman for the German press agency in Berlin said.

According to information from the "World", there were indications for a possible attack on a Christmas market in Berlin for several days.

The incident occurred at about 8pm. The truck came from the Kantstrasse and intentionally exceeded several booths. Videos show destroyed booths on the Christmas market, numerous police vehicles were heard. Special units are alerted.
This incident comes only days after a 12-year-old boy of Iraqi heritage (born to Iraqi immigrants in Germany in 2004) was planning to blow up the Christmas Market in Ludwigshafen, Germany. Sources said the Iraqi boy was "strongly radicalized" and likely instructed by the Islamic State or similar Islamic militant group.  The radicalized boy left a backpack containing a self-made nail bomb at the Christmas market on Nov. 26, but the device did not go off because the detonator apparently failed.
Thank goodness that 12-year-old radicalized terrorist didn't know how to make a better detonator , or there would have been serious loss of life at that Christmas Market.
CBS reports further information on the truck plowing through a Christmas Market in Berlin.
BERLIN - At least nine people were killed and dozens injured when a truck plowed through a crowd at a popular Christmas Market in Berlin late Monday, police said.

Polizei Berlin confirmed the deaths on Twitter, although it's still not clear what happened to the attacker or attackers.

The attack happened in Breitscheidplatz, a major square in the center of the German capital. Every year, the city of Berlin hosts a Christmas market there, which has "more than 100 beautifully decorated market stands and Christmas booths as well as 70 fairground rides."

The market is situated near the fashionable Kurfuerstendamm avenue and the attack happened at the foot of the landmark Kaiser Wilhelm memorial church, which was kept as a ruin after World War II.

Both the Berliner Zeitung newspaper and the Berliner Morgenpost reported the truck ran into the market outside the landmark Kaiser Wilhelm Memorial Church on Monday evening. 
Christmas is supposed to be "the most wonderful time of the year", but it appears some people apparently haven't assimilated to accept Western culture and beliefs of tolerance towards others.
The story is developing, updates to follow.  Although I would expect those updates to be slow if this does prove to be a terrorist incident, as the German media is famous for censoring any terrorist attacks or stories that shine a negative light on immigrants.  Earlier this year, after a series of terrorist attacks in Europe, Germany decided they were going to "end hate speech" online, and worked with social media companies to suppress any criticism of their mass immigration practices.
I eagerly await cries for tolerance of Christmas and other people's beliefs from the mainstream media (it won't happen).  The media is more likely to come out and start demanding "common sense truck control", which is really just a symptom of a much larger issue, or banning Christmas celebrations so they don't risk "offending" anyone.  Why not just go all the way and demand everyone converts to Islam?
Terror attack in Berlin as truck drives into crowd at Christmas market, same as Nice attack, happy now Merkel? https://t.co/A3nUQqbNX1

— David Jones (@DavidJo52951945) December 19, 2016
---
Want to help President Trump fight back against the biased press? Become a contributor and submit your content.