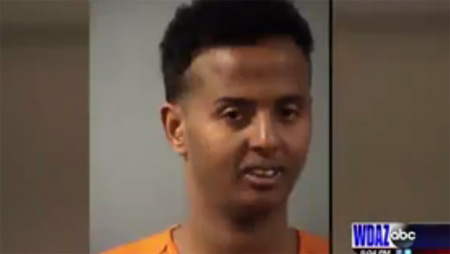 A 30-year-old man was booked into Grand Forks County Correctional Center in North Dakota after calling emergency services 44 times in less than a week, for the purpose of pledging his support to ISIS and express his anger towards President Donald Trump.
Mohamed Aweis Mohamed is accused of harassment and calling 911 for no other reason than to vent his frustrations, apparently claiming that felt he "had no freedom" in the U.S. and wanted to "go home", while  allegedly saying he supported ISIS and "dislikes" women.
In early February a Grand Forks Police officer met with the suspect and checked his phone logs, which showed multiple calls to 911.  Mohamed Mohamed stated he called emergency services for no other reason than to vent his frustrations, which apparently range from being stuck in America to being angry with Donald Trump.
On Feb. 3, dispatchers said the suspect called 44 times to express his displeasure with President Donald Trump, according to court documents.

A Grand Forks Police officer who eventually met with Mohamed checked the suspect's phone log after he voluntarily showed it to the officer, according to court documents. That officer said the phone showed a log of emergency calls.

Court documents detail conversations between Mohamed and dispatchers, including his claims that Trump fueled "morale" of the Islamic State, also known as ISIS. Mohamed reportedly said he felt he had no freedom in the U.S. and that he wanted to go "home" or to Canada. He also allegedly said he supported ISIS and "dislikes" women.

"The male subject knew law enforcement (was) en route to his residence and said he would run, would not answer the door and would not be cooperative with them at any point," officers said in a complaint.

Officers were dispatched Feb. 3 to 2819 20th Ave. S., where they said they heard a male subject speaking from inside the home.

"The suspect would not open the door for officers and continued to call 911 for no legitimate purpose other than to vent his frustrations," the complaint said.
Mohamed apparently gave the excuse that he was drinking heavily (for an entire week) during his calls to 911 threatening Donald Trump and investigated found that he has no legitimate connection to ISIS.
An officer again contacted Mohamed on Feb. 8, asking the suspect to stop calling and inquiring about his connection to ISIS. Mohamed said he called 911 because "he knew his rights and because he loved America," the complaint state.

During the meeting with the officer, Mohamed cited drinking for the calls the complaint described as "rants about U.S. President Trump."

The harassment charge is a misdemeanor that carries a maximum sentence of one year in jail and a $3,000 fine. He has an initial appearance scheduled for March 29.
 This isn't the first time Mohamed Mohamed has found himself accused of harassment, as in a separate case he called 911 operators and claimed that he needed an ambulance, but later admitted he was just looking for a taxi.  After his most recent abuse of 911 operators, Mohamed has been penned as the alleged "ISIS caller".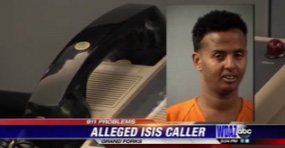 According to a criminal complaint, also from February, Mohamed called 911 a total of 15 times in a day, prompting them to respond, but later found he just wanted a taxi cab.  The frantic number of calls prompted emergency responders from Altru, the Grand Forks Fire Department and Grand Forks Police Department to arrive at the man's home, effectively wasting their time.
I think it's safe to say this individual is mentally impaired, which you could likely infer simply by looking at his photo, but people with mental disabilities have been known to perform horrific acts of random violence (Aurora theater shooting, Sandy Hook, etc).  Add radical Islamic extremism or ISIS to the mix, and a "harmless" mentally unstable person could quickly turn into one of the worst mass murders in America's history, as indicated by prior events.  Recall that the Orlando nightclub shooter Omar Mateen reportedly called 911 prior to his attack, also pledging his support for ISIS.
---
Want to help President Trump fight back against the biased press? Become a contributor and submit your content.