German police are seeking a man by the name of Anis Amri, age 23, a refugee from Tunisia who came to Germany earlier this year seeking asylum, and is suspected of carrying out the brutal truck attack on a Berlin Christmas Market that killed 12 people.
Police stated that they found an ID belonging to Anis Amri on the floor of the truck he hijacked to plow into the busy Christmas Market only two days ago.  Yesterday, authorities released a previous suspect, Naved Baluch (also age 23 and a migrant with past criminal offenses), who they mistakenly arrested after witnesses saw him around the scene of the truck crash.
Anis Amri is a known associate of a terrorist group that was arrested in November for recruiting volunteers to travel to Syria and fight on the side of ISIS, and even reported that he lived with one of the group's members for a time.  Police stated that Amri was being monitored for his terrorist ties, but they lost track of him in recent months.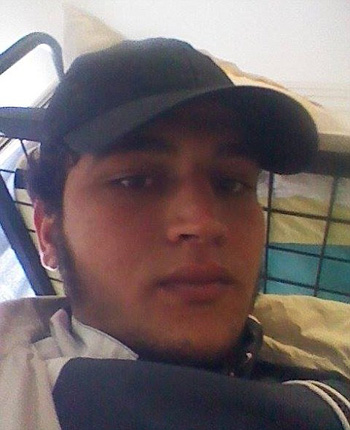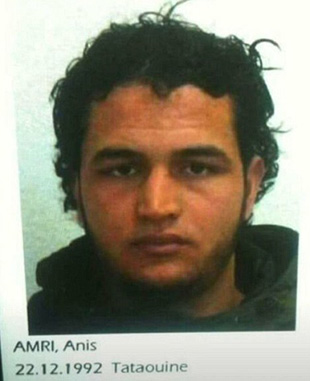 Anis was born in the town of Tataouine in southern Tunisia, according to German news reports.  Yes, the same Tataouine that inspired George Lucas, creator of Star Wars, to name the desert planet Tatooine that Luke Skywalker was living on and became the launching point for his story.  I certainly hope authorities don't fall for the old "these aren't the radical Islamic terrorists your looking for" trick.
Oddly enough, the perpetrator (Mohamed Lahouaiej-Bouhlel) of the truck attack in Nice, France, during the Bastille Day celebration that claimed the lives of 86 people was also born in Tunisia.
Police in Germany believe that Amri may be wounded, due to the amount of blood they found in the cab of the truck, and they have been searching local hospitals, but have so far turned up empty handed.
Amri was living in Berlin, although his ID was issued in Kleve, a border town with Belgium.  Police have stated that he may have been using multiple names throughout his time in Germany.  It's being reported that the suspect was a follower of Abu Walaa, who arrested last month for recruiting radicals into the ranks of Isis. Walaa has previously spoken at mosques in London.
Police today revealed they are hunting Anis Amri, 23, a refugee who came to Germany earlier this year. His paperwork was found in the footwell of a lorry used to murder 12 people on Monday night.

He is probably armed, 'highly dangerous' and a member of a 'large' Islamic organization and has weapons training abroad, security sources say.

This afternoon it emerged that he had already been under investigation for planning a 'serious act of violence against the state' and counter-terrorism officials last exchanged information about him in November.

The suspect, believed to have entered Europe through Italy with Syrian refugees, was also in contact with a 'network of leading Islamist ideologists'.

This afternoon, police raided a migrant shelter in the town of Emmerich, western Germany, where he is believed to have lived.

Amri, who was born in the desert town of Tataouine in 1992 – a well-known ISIS stronghold close to the Libyan border - was apparently recently arrested for GBH but vanished before he could be charged.

In August 2016 he was arrested with a fake Italian passport and released but his phone was said to be monitored. He then disappeared in December, according to Die Welt.

A Facebook profile in his name shows 'likes' linked to Tunisian terror group Ansar al-Sharia, a Tunisian group with followers linked to extremists who murdered 22 at Tunis' Bardo Museum in March 2015 and then 39 tourists at a beach resort in Sousse.

He was in contact with Islamist militants in North Rhine-Westphalia (NRW) and was known to German security agencies, the state's Interior Minister Ralf Jaeger said.

The suspect had applied for asylum in Germany and his application was rejected in July. Attempts to deport him to Tunisia failed as he did not have identification papers, and Tunisian authorities disputed whether he was their national.
So as one migrant suspect was arrested and subsequently released by German authorities yesterday, another migrant hunt is currently under way.  Shocking.
Also, if the suspect's application for asylum was rejected in July, what is he still doing in the country?
German Chancellor Angela Merkel, who was ironically attending an awards ceremony honoring refugees and migrants at the time of the truck attack, stated yesterday that it would be particularly repulsive if a refugee seeking protection in Germany was the perpetrator. By her own words it appears this situation has become "repulsive", although the only person who seems surprised that a migrant would be involved in a horrific terror attack, in a county that has imported over 1 million refugees, is Merkel herself.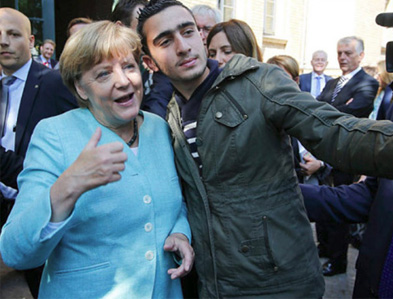 Meanwhile, according to Reuters, it is believed that the Polish truck driver who was found shot in the cab was alive up to the time of the crash, but was found dead when authorities arrived at the scene.  The 37-year-old Pole named Lukasz worked for his cousin Ariel Zurawski's transport company in northern Poland. Zurawski described him as a "good guy" and said his body showed signs of a struggle with the attacker.
Angela Merkel has said she will run for a historic 4th term as Germany's chancellor next year, but by the time the election takes place there could very well be several more terrorist attacks in her country, in effect destroying her legacy of unwavering support for migrants.  In that case, Germany may be looking at its own "Trump election" coming up, where voters decide they have had enough of establishment politicians using them as social experiments in cultural diversity and mass migration.
---